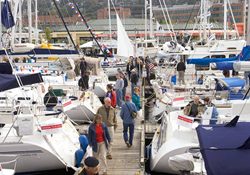 Seattle, WA (PRWEB) September 03, 2014
Seattle's 36th annual Lake Union Boats Afloat Show gets underway next Wednesday September 10th at 11am and continues through Sunday 14th, 2014. The show – with 200+ new and used boats from 20 to 92 feet – is the West Coast's largest floating show. From ski boats to super yachts and everything in between, Boats Afloat has it all. Regular attendees will notice quite a few new attractions this year —from the addition of seminars and in-water docking classes to a new layout, new exhibitors, new food vendors, and entertainment for the kids provided by Disney Radio.
Attractions and promotions include:
Get out on the water

Free daily 45-minute sailboat rides for all ages on Lake Union on 30-40 foot boats run continuously, everyday, throughout the show, courtesy Discover Sailing.
Free 60-minute sailing lessons for kids 8-16 on 13' Hobie Cat Waves courtesy of Sail Sandpoint are available on Friday Saturday and Sunday.
A special Intro-to-Sailing ticket for $50 includes 2-day admission, 1.5 hour seminar and 1.5 hour on-water sailing lesson.
Kid-friendly activities:

Radio Disney Seattle will be onsite hosting water fun and safety activities, bringing exciting games and dances and giving away tons of prizes throughout the weekend.

Center for Wooden Boats Toy Boat Building for Kids
Kids will use traditional tools provided by the Center for Wooden Boats to build and decorate their own wooden boat.

Water safety awareness in and around the water is an important lesson for kids so the show will be giving away 500 kids lifejackets September 13 and 14.
Boats of note:
The most expensive boat in the show: At $6.5 million, the 2014 85-foot Ocean Alexander Motoryacht combines the latest in technology with the finest luxury appointments and designer touches throughout.
The most unusual boat in the show is the 49-foot Crossover by Sundance. It looks like a houseboat but is actually a luxury cruising trimaran powered by an inboard diesel engine. It has a flybridge (480 square foot rooftop deck) with seating for 14 people plus body-contoured sun lounges for another four people.
The biggest boat in the show is 'Anita' - a gorgeous 95-foot mega yacht. Dreaming of cruising to Alaska or Hawaii? With four cabins and a gourmet galley (kitchen) she could take you in style.
See more boats of note at: http://boatsafloatshow.com/boats-of-note.htm
New seminar series, presented by Sea Magazine
The show will be offering a series of free one-hour seminars with topics for the seasoned boat owner such as 'Battling Mold and Mildew' or 'Cruising West Vancouver Island' as well as topics geared to the first time boat buyer such as 'Boat Buyers' University: What is the process for buying a new or used boat?' Seminars will be held on Friday through Sunday. For a complete list of seminars, seminar times and bios of the presenters, please visit http://boatsafloatshow.com/seminars.htm
Hampton Yacht Group Docking Lessons
Docking can be nerve wracking —especially in tight spaces, unfamiliar marinas or when the wind or current kicks up. The ability to confidently and competently maneuver a boat in close quarters is the hallmark of a competent skipper and requires a set of skills that usually takes years to perfect and lots of trial and error. The Hampton Yacht Docking lessons will get participants started on that road to complete confidence. The classes include 25 minutes of classroom training, and 20 minutes of in-water demonstration, and will be held once a day on Friday through Sunday. More details are available at http://boatsafloatshow.com/docking-lessons.htm
For more information and a complete list of exhibitors and attractions, visit: http://www.BoatsAfloatShow.com
Show photos available at: http://www.boatsafloatshow.com/gallery.htm. Photos of individual boats available on request.
The 2014 Lake Union Boats Afloat Show is presented by Word Yachts.
###