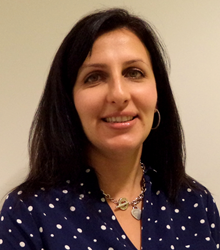 "I love the fact that they listen to their customers and they go to great lengths to use customer feedback to enhance their solutions."
Atlanta, GA (PRWEB) September 03, 2014
The Rainmaker Group, a world leader in automated profit optimization software and services for the gaming/hospitality industry, is pleased to announce the addition of 16-year career hospitality veteran Sofya McIntosh as Director, Sales.
"Sofya's experience adds tremendous breadth and depth to our sales efforts because she brings perspective, key insight and contacts from both the property as well as supplier side of the hospitality industry," said John Wallace, President, Gaming/Hospitality.
Born and raised in Moscow, Russia, McIntosh joins an already powerful lineup of Rainmaker gaming/hospitality sales professionals. McIntosh will focus her efforts on helping to market the company's flagship revenue management solutions, GuestREV® and GroupREV® group pricing software.
McIntosh's 16-year hospitality industry career includes stints with Ritz-Carlton/Marriott Hotel Company, Interstate Hotels and Resorts and, most recently, with TravelClick. Before joining Rainmaker, she held various positions with TravelClick, including Enterprise Director of Sales. In that role, she was responsible for global relationships on high-profile brands that included Marriott, Choice Hotels, Best Western, Extended Stay and Omni Hotels & Resorts.
What attracted her to Rainmaker?
"It was really a combination of factors," said McIntosh."I heard so many great things about Rainmaker from Omni Hotels & Resorts. I was attracted by how customer-focused they are and the company's amazing culture. I'm also very impressed with their solutions. Rainmaker continues to invest in their products and they're extremely innovative. I love the fact that they listen to their customers and they go to great lengths to use customer feedback to enhance their solutions.I just want to be a part of it all: the immense talent, the energy and the limitless potential that is Rainmaker today."
McIntosh earned a Bachelor of Arts, Academy of Economy and Law, from Moscow Academy of Business Law, Moscow, Russia. Today, she, her husband and two daughters live in a suburb just northeast of Atlanta.
##
About Rainmaker
The Rainmaker Group is the market-leading provider of automated Revenue Management and profit optimization software solutions for the Gaming, Hospitality and Multifamily Housing industries. An innovator and thought leader in the highly specialized revenue optimization field, Rainmaker leverages cutting-edge research in order to bring clients the most sophisticated systems. Whether GuestREV®, TribalREV®, or GroupREV®, all Rainmaker solutions for Gaming & Hospitality provide clients a strategic advantage in achieving the highest profitability from their assets. Rainmaker solutions are used to manage over 150,000 rooms for companies such as Atlantis The Palm Dubai, Caesars Entertainment, MGM Resorts International, Omni Hotels & Resorts, Wynn Las Vegas, and many others, and they support the operations of leading tribal clients such as Viejas Casino, Mohegan Sun, Foxwoods Resort Casino, Seneca Gaming Corporation, Agua Caliente, and more. Rainmaker is a Microsoft Silver Certified Partner headquartered in northern Atlanta, GA, and has for four years running ranked on the Inc. 5000 list among America's top fastest growing, privately held companies. For more information, visit http://www.letitrain.com.
For Further Information Contact:
Nancy Nevins, Director of Marketing
The Rainmaker Group
(678) 578-5728
Media Contact:
Greg Houston, Principal
DeanHouston, Inc.
(513) 421-6622