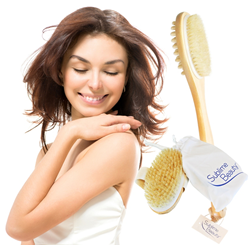 "I love the invigoration and sense of well-being that comes from Skin Brushing in addition to the other benefits," says Kathy Heshelow, founder of Sublime Beauty
St. Petersburg, FL (PRWEB) September 04, 2014
Sublime Beauty® has introduced thousands to Skin Brushing, also known as Body Brushing.
Skin Brushing helps exfoliate the dead cells and toxins from the skin, as millions of cells are shedding each day. Skin is our largest organ, and it is important to keep it in optimal shape.
Body Brushing will not only exfoliate those dead cells, it will help move the lymphatic system which has no natural pump. It will also boost blood circulation, improve skin tone, help reduce cellulite and a host of other goodies.
"I love the invigoration and sense of well-being that comes from Skin Brushing in addition to the other benefits," says Kathy Heshelow, founder of Sublime Beauty®. "Our brush is featured this week at the Healthy Brands Showcase in New York."
The company maintains a website devoted to Skin Brushing with lots of helpful information.
HERE ARE THE EASY 5 STEPS TO SKIN BRUSH:
1) Brush on absolutely dry skin, typically in the morning BEFORE your shower. Stand in the shower so that dead cells can be easily rinsed away.
2) Use a natural-bristled brush only. Sublime Beauty® offers a long-handled brush and a portable brush(recently featured in Glamour Magazine).
3) Start at your feet and using medium strokes, brush about 3 to 6 strokes in each area ALWAYS BRUSHING TOWARDS THE HEART. It should never hurt, and you should use a medium firm stroke. Be sure not to share your brush with others.
4) Brush everything except the neck and face, but don't brush over open sores. You can spend a little extra time on thicker areas (soles, elbows) and lymph-rich areas (armpits, inner thighs).
5) The entire process takes about 10 minutes, more or less. We suggest drinking a glass of water after and using a natural body oil afterward.
"In less than 10 minutes per day and for less than $20, you can improve skin but also your well-being," says Heshelow.
ABOUT: Sublime Beauty® is a quality skincare company that focuses on products to "Age Younger". Ingredients help to boost collagen, hydrate, relax wrinkles and improve skin. A niche includes healthy Skin Brushes. The company webstore offers free standard shipping and a VIP Club. Sign up for Secret Sales on the site. Products also available on Amazon.