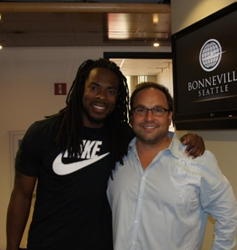 "As a smaller regional company we are lucky to have one of the most popular sports celebrities in America endorsing us." Kiel Mortgage-President, Brent Abrams
RENTON, Washington (PRWEB) September 04, 2014
Kiel Mortgage is pleased to announce that World Champ, All-Pro, First Team Cornerback, Richard Sherman has signed an endorsement contract with Kiel Mortgage for a second year in a row. So why endorse Kiel? Richard, who just purchased his first home, realizes the importance of working with a reputable company that can walk you through the home lending process with ease and expertise. Kiel has remained steadfast, while a high percentage of their competitors have closed shop. Richard respects their desire to help families obtain the dream of homeownership and that Kiel has worked hard to perfect their craft over the span of three decades.
The endorsement agreement is a business to business relationship that focuses on ten, fifteen, thirty and sixty second radio spots that will air on KJR AM, ESPN, and the Seahawk's Network. The creative spots, written by Bright Lights Media Group, will poke fun at various individuals in the league and help build momentum for the upcoming season.
Kiel will be giving away signed Richard Sherman memorabilia this season. Qualification is easy! Like Kiel Mortgage on Facebook and a winner will be drawn throughout the season. Kiel's company President, Brent Abrams is thrilled to have Richard on board for a second year in a row. "I am impressed with Richard," Abrams said. "As a smaller regional company, we are lucky to have one of the most popular sports celebrities in America endorsing us. Typically athletes of this stature will only speak with National Conglomerates. Sherman reminds me of the great Muhammad Ali. Ali stood for values and his values dictated his actions. Not everyone agreed with Ali, but everyone knew where he stood. Oh, and by the way… I understand why at least thirty one cities throughout the country are indifferent to the Seahawks and what Richard Sherman has to say. But, here in the Northwest, we look forward to another Superbowl run! Go Hawks."
For more information, please visit: kielmortgage.com or give them a call at 1-888-778-KIEL.