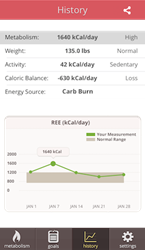 Breezing provides an accurate snapshot of one's caloric burn rate, a powerful tool for managing weight or optimizing performance.
Tempe, AZ (PRWEB) September 03, 2014
Breezing Co. is making metabolic tracking far more accessible.
To measure one's metabolism, it's as simple as breathing. The Breezing mobile app syncs to a smartphone or tablet wirelessly via Bluetooth to take metabolic measurements. Breezing also tracks metabolism over time and helps individuals follow their diet and exercise goals.
Breezing provides an accurate snapshot of one's caloric burn rate, after exercise and at rest, which is a powerful tool for those wanting to better manage their weight, or for athletes who want to optimize their performance.
At the core of Breezing's technology is the ability to accurately measure Resting Energy Expenditure, or REE – the speed of an individual's metabolism. A higher REEding means one's metabolism is faster, burning more calories each day. A lower REEding means one's metabolism is slower, burning fewer calories. The key is that REE is 100 percent unique to an individual, and typically accounts for the majority of calories burned (up to 85 percent). Knowing one's precise metabolic rate can empower users to fully customize their weight and fitness goals.
In 2013, Breezing Co. launched its first-generation model through crowdsourcing efforts (Indiegogo.com). Due to strong customer feedback and demand, the company has made the product available to everyone. For its release, Breezing Co. has updated its revolutionary mobile metabolism tracker to be fully integrated with Apple Inc.'s latest versions of iPhone and iPad.
To see the full overview and demonstration of new features compatible with Apple mobile device or to place an order, go to http://www.breezing.com
About Breezing
Breezing Co. creates game-changing solutions for personal health. As passionate scientists, researchers, and innovators, the company combines proven science with intuitive technology to enable better biometrics tracking. More information: http://www.breezing.com