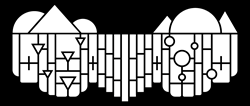 "This sculpture will change the way our audiences think about projection mapping, not only for media and promotion, but also for home decor and transformative spaces." - J Matthew Nix, Project Lead for Chicago Projection Mapping
Chicago, IL (PRWEB) September 03, 2014
Chicago Projection Mapping (CPM), a Chicagoland-based content and 3D projection company, announced today the launch of Chicago's first permanent projection mapping installation for residential property. The display, created for the new Somerset Place property on Chicago's North Side, showcases over a half-hour of custom-designed visuals and audio for residents and patrons. Video and photography will be available following the official opening of Somerset Place on October 2nd.
After being commissioned by Zidans to create an unmatched projection experience for Somerset Place, Chicago Projection Mapping began development of a custom light sculpture for new residents. Over the span of six months, CPM coordinated all aspects of the design process from initial sketches to final CAD rendering. The end result is a massive, 73-panel projection wall that will as the visual centerpiece to Somerset Place, featuring over a half-hour of custom designed animation and content, specifically designed to use the architecture of the sculpture.
The technical specifications are equally impressive. Using two Panasonic PT-DZ870 projectors with ultra-short throw lenses, CPM was able to develop a visual system that spans over twenty feet in width and eight feet in height, controlled from a central media server. The end result is a first-of-its-kind, environment-transforming display, utilizing ultra HD resolution and effects, capped with continuous operation 22 hours out of the day.
"This is the culmination of months of design and implementation", said J Matthew Nix, project lead for Chicago Projection Mapping. "This sculpture will change the way our audiences think about projection mapping, not only for media and promotion, but also for home decor and transformative spaces."
Chicago Projection Mapping continues 2014 with further displays and installations through Chicago and beyond. CPM remains at the forefront of Midwestern projection mapping, including architectural projection mapping, activations for event marketing, 3D and 4D video mapping displays, and projection mapping for trade shows and corporate events. For inquiries or a free quote, please email info(at)ChicagoProjectionMapping(dot)com.
Chicago Projection Mapping (CPM), an Absolute Vision Media Inc. company, is among the nations leaders in top-tier 3D and 4D projection mapping and video mapping services. CPM distinguishes itself above traditional AV and projection companies with a focus on future-proof, value-oriented projection solutions, followed with exceptional client service and unmatched creative content. Further, CPM takes a hands-on approach to developing never-before-seen implementations of mapping, including permanent installations in both residential and commercial spaces, and cutting-edge interactive applications of mapping through their research and development division, CPM Labs. From concept to completion, Chicago Projection Mapping is the preferred national and international partner for dozens of agencies, businesses, firms, and audio/visual companies alike. For more information and samples of work, please visit http://www.ChicagoProjectionMapping.com.