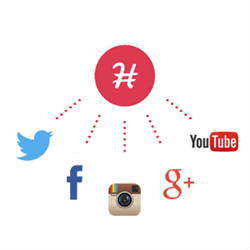 "when we started looking at case studies and white papers we found that more than 70% of consumers trusted reviews posted by customers online and over 80% used social media before visiting a local business we thought we may be on to something."
Toronto, Canada (PRWEB) September 03, 2014
Can social media really make my business money? The answer is yes and comes with the release of Hashtagio's Show and Tell storyboard platform. Hashtagio enables users to search and moderate Fan content from the most popular social networks such as Facebook, Twitter, Instagram , Google+ and Youtube and use as powerful testimonials and reviews. Users can quickly create custom boards and display them on their website, blog, in-venue screens or jumbotrons at live events bridging social conversations with real world events driving increased participation, traffic and sales.
Until now the focus in social media has been on "pushing" content to audiences to encourage direct conversation. However what about the other conversations being started by Fans themselves when using a hashtag? The unprovoked displays of love by customers while engaging in real time with a business, product or brand? These offer the most powerful and persuasive argument when attracting new customers and engaging an audience, yet have been greatly underutilized till now.
"When we started looking at case studies and white papers we found that more than 70% of consumers trusted reviews posted by customers online and over 80% used social media before visiting a local business we thought we may be on to something." Said Macintosh
Hashtagio let's users leverage these fan posts to build Social Media "Hubs" showing off positive fan experiences. As fans engage with a business or brands hashtag the posts can be curated, selected and added to the board showing real time brand participation and bringing digital properties to life. Site visitors can share their favourite posts driving inbound traffic or choose to participate by using the hashtag in their own post to, "see if theirs makes it", driving repeat visits.
As the use of Hashtags grows, businesses have a unique opportunity to drive their message across multiple social networks effortlessly and then harness the power of organic, fan based content to use to tell their story.
Macintosh said "With consumers spending 16 minutes on social media for every hour online we wanted to consolidate that time to our clients' website... the center of their social network and digital universe."
Hashtagio has turnkey packages designed for everyone from small business right up to customized integrations for Agencies, Brands and Event Organizers. The platform allows for quick and easy set up, customization and dynamic editing of content enabling clients to keep their stories fresh and relevant. For those not sure if they're ready to jump right in, a Free Trial is provided along with step by step instructions.
About Hashtagio
Hashtagio is a Toronto based technology company focused on providing custom and turn key, cutting edge marketing tools and tactics that support business growth. The Hashtagio platform allows users to easily search for social media content across multiple social networks by hashtag, @mention, page, channel, location and keyword.
To learn more about Hashtagio visit:
http://www.hashtagio.com