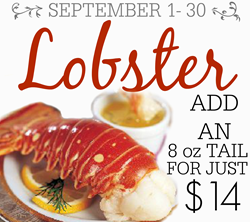 Houston, TX (PRWEB) September 04, 2014
Starting Monday, September 1st, Southwest Houston and Clear Lake residents will be able to indulge in a succulent Brazilian Lobster tail with the Brazilian rodizio style of meats. The lobster is seasoned with fresh herbs then grilled at 700 degrees and accompanied with a house garlic butter sauce for only $14 per tail. Guests have the option to add the Lobster to the salad bar or for it to come out with their selection of unlimited meats. Surf and turf anyone?
"We wanted to offer a unique addition to the Brazilian style way of dining. Typically Brazilian Steakhouses focus on the meats, but since Houstonians love seafood, we wanted to add something special and different with the lobster option." Melissa Abrantes, Tradicao Brazilian Steakhouse's marketing director said. "And at just $14 per 8 oz. tail, there's no reason you can't experience it several times!"
Promotion is $14 per 8oz lobster tail with purchase of a meal. The lobster is from the warm ocean waters of Brazil off the coast of Recife. Tradicao will be serving Brazilian Lobster, grilled the Brazilian way in a Brazilian Steakhouse.
They have two locations to choose from – Southwest Houston/Fort Bend at 12000 SW Freeway or in Clear Lake/Webster at 201 W. Bay Area Blvd. To contact the SW Freeway location, call 281-277-9292. To reach the Bay Area Blvd. location, please call 281-557-9999. Reservations suggested.
More information about Tradicao Brazilian Steakhouse is also available on their website at
http://www.tradicaosteakhouse.com.
About Tradicao Brazilian Steakhouse
Tradicao Brazilian Steakhouse offers diners a full all-you-can-eat Brazilian dining experience. From the traditional Picanha top sirloin steak and Filet Mignon served tableside to delicious shrimp and fresh salmon - Tradicao Brazilian Steakhouse has all of the best Brazilian steak and seafood offerings.