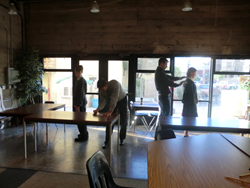 SF Custom Chiropractic provides free scoliosis screenings and posture checks for school children in San Francisco
San Francisco, CA (PRWEB) September 04, 2014
National Backpack Awareness Day is September 17 this year. The doctors at SF Custom Chiropractic firmly believe in the mission statement of this day, which is to focus on student health and minimize back pain and neck pain. To honor National Backpack Awareness Day, the chiropractic doctors at SF Custom Chiropractic will be performing backpack, scoliosis, and health screenings during the first few months of the new school year at Bay Area schools.
"In all of the excitement of a new school year, the extra weight in students' backpacks is often overlooked," says Dr. Adam Jacobs, founder of SF Custom Chiropractic. "If not addressed, students will suffer from neck and back pain; this can lead to adaptation of poor posture that will cause more issues down the line."
It is recommended that students should carry backpacks that are no heavier than 10-15% of their body weight. Carrying any weight in excess of this recommendation can lead to rounding of the shoulders, headaches, muscle spasm, neck and back pain, and poor posture. This, in turn, can make it uncomfortable for children and adolescents to sit comfortably at a desk, play sports, and sleep at night.
"It is important to make sure that a backpack's weight is distributed evenly," explain Dr. Anthony Gustin. "Carrying a backpack on one shoulder habitually will weaken muscles on the other side and cause muscle strain."
Back pain can be prevented with knowledge of proper backpack alignment, appropriate weight, and awareness of good posture. If students are educated early on, it will decrease their chances of carrying posture imbalances into adulthood.
To make an appointment for a backpack screening at your school, call the office at (415) 788-8700.