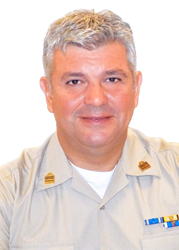 I really appreciate the efforts put together by the organizers to conceptualize an event of this magnitude and importance.
(PRWEB) September 03, 2014
The QMARSEC Committee is proud to announce Commander Parisis Kanoutos GRC (N) as one of the high profile guest speakers for the upcoming Qatar Maritime Security Coastal and Border Surveillance Conference. Scheduled to be held on October 14th and 15th 2014. At present, Commander Kanoutos is the Director of Education and Training at the NATO Maritime Interdiction Operational Training Centre in Greece.
The Qatar National Security Shield Project is officially hosting the QMARSEC Conference again this year. This annual conference kicked off in 2013 with tremendous support from maritime security experts globally. With the theme of "Maritime Domain Awareness - The Steps To Maritime Security," this year's conference is set to emerge again as a robust platform of exchange for the defense, space and security industry.
Welcoming delegates to be a part of Qatar's largest maritime security conference, Director of Qatar National Security Shield Project Staff Brigadier (Pilot) Mohammed A. AL-Mannai said, "It is a matter of great satisfaction for me to announce that Commander Parisis Kanoutos GRC (N) has expressed his consent to be a part of QMARSEC 2014. He is one of the most respected figures across the globe in matters related to maritime security. Commander Kanoutos' presence will certainly help us take this annual conference to new heights, focusing on the training aspects of Maritime Security."
In his highly successful career, Commander Parisis Kanoutos GRC (N) has been appointed as ASW and Operations Officer on HS MAKEDONIA, and as Executive Officer on HS ELEFTHERIA and HS FORMION. He has also served as the Staff Officer of the Hellenic Naval Academy and the Frigate Command. Other key assignments handled by Commander Parisis Kanoutos include serving the Fast Patrol Boat HS ORMI as the Commanding Officer and at NMIOTC - NATO Maritime Interdiction Operational Training Centre - Greece as a Transformation section Head and instructor from 2007 to 2010. He was also appointed at the Greek Delegation in the NATO headquarters in Brussels from 2010 till 2013, as a Military Advisor of the Ambassador.
Commander Parisis Kanoutos GRC (N) feels that events such as QMARSEC 2014 will play a stellar role in promoting collaboration amongst key stakeholders in the global community for maritime security. "I really appreciate the efforts put together by the organizers to conceptualize an event of this magnitude and importance. More such events will make it possible to resolve all types of maritime security threats with high efficiency. I am looking forward to meeting the delegates, and making a meaningful contribution to the event."