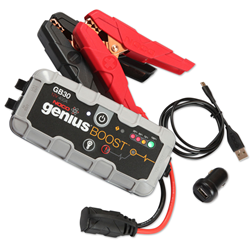 So we set out to create the safest and most dependable jump-starter on the market.
Glenwillow, Ohio (PRWEB) September 03, 2014
The NOCO Company today announced the launch of Genius® Boost™, an ultra-compact and portable lithium jump starter that powers low and dead batteries on cars, boats, motorcycles, ATVs, lawn mowers, trucks, and other vehicles. Despite its compact and lightweight design, Genius Boost is powerful enough to deliver multiple jump starts on a single charge.
Safety and Convenience Built In
Safety features separate Genius Boost from competitive products on the market by eliminating all of the inherit safety risks involved in using ordinary car jump starters and booster cables. With Genius Boost, there's no risk of accidentally connecting battery clamps in reverse polarity, touching clamps, sparks, or arcing. It also eliminates the associated risk of welding battery clamps directly to battery posts. Because Genius Boost prevents these situations from happening, it's one of the safest jump starters on the market. Zero Spark and Reverse Polarity Protection Technology, combined with multiple layers of redundant safety protection, keep users and their vehicle batteries safe. The Genius Boost is designed for use by all drivers – from skilled mechanics to those with little or no technical savvy.
With its compact and lightweight design, Genius Boost easily stores inside a vehicle in spaces as small as the glove compartment. Unlike ordinary car jump starters that lose charge within a month, the Genius Boost can hold a single charge up to one year. While small in size, the Genius Boost is extremely powerful and capable of jump starting up to 20 times on one charge, powering vehicles as low as zero volts, and starting engines of up to six liters.
Powered by NOCO® Element™
The device's power comes from a high-density lithium-ion battery designed by NOCO's innovative Research and Development team. This battery uses a unique manufacturing process and battery separator technology that provides the ability to deliver high current in a wide range of temperatures without exposing the battery to premature failure. The battery, called NOCO Element, is the first lithium-ion battery developed by NOCO and has been tested to withstand extreme temperatures while under excessive loads and while still maintaining the integrity of the lithium-ion cells.
The NOCO Element battery is further monitored by an innovative Battery Maintenance System (BMS) that continuously monitors the internal battery and keeps the cells balanced through Active Cell Balancing Technology. This results in exceptionally safe, reliable, and dependable performance.
"When we analyzed the market, our biggest concern was user safety," explained Rick Stanfield, NOCO's Chief Technology Officer. "The majority of the products seemed to use either inferior lithium technology or they lacked the necessary safety designs. So we set out to create the safest and most dependable jump starter on the market. I think we accomplished our goal – and then some."
Doubles as Device Charger and Flashlight
The Genius Boost is not just a compact vehicle jump starter, but also the perfect roadside companion. It doubles as a dual LED flashlight with seven different lighting modes, and a USB battery pack for use in recharging USB devices like smartphones or tablets.
The Genius Boost is easy to keep charged through its micro USB port, rated at 2.1 Amps. Drivers may use it with its included 12V USB Car Charger and USB Cable or any existing USB car chargers, AC chargers or laptop. The Genius Boost is fully recharged within three hours using the included charger.
Its bright dual LED flashlight features seven different lighting modes from 100% to 10% luminosity, and a unique Blink and Emergency Strobe pattern to warn oncoming vehicles when disabled on the road. The flashlight also offers an SOS mode to signal for help.
Its 2.1 Amp USB port further lets users recharge their favorite devices while on the road. Though not particularly designed for everyday USB battery pack use, the Genius Boost can recharge a smartphone up to four times, delivering emergency power when needed.
The Genius Boost GB30 retails at $159.95 and will be available through select resellers beginning October 6, 2014. For more information, visit http://www.no.co/boost.
About The NOCO Company
NOCO designs NOCO Genius®, the most advanced smart battery chargers in the world, along with NOCO XGrid® Portable Solar Solutions, BatteryLife®, and other battery products. Founded in 1914, NOCO is a leading designer, maker, and distributor of innovative consumer based battery brands.
For additional information, contact Kelsea Grampp by phone at 800.456.6626 or via email at kelsea.grampp(at)no(dot)co.