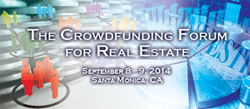 Chicago, IL (PRWEB) September 03, 2014
American Homeowner Preservation ("AHP") CEO and founder Jorge Newbery will be a Session Chair at IMN's Crowdfunding Forum for Real Estate next week in Santa Monica, CA. This two-day event taking place September 8-9 will provide real estate developers and registered investment advisors (RIAs) an opportunity to learn more about the impact of crowdfunding on real estate from fellow developers and RIAs.
Newbery will chair the SEC/FINRA & Selling Regulations panel on Monday afternoon. This panel will delve into topics such as the JOBS Act, applicable regulations, SEC registration, Form D filings, investor suitability and advertising of investment opportunities. Panelists joining Newbery include Melanie Pennell-Mayer of Associated Ventures, Peter Shakow of Bird Marella PC, Melinda LeGaye of MGL Consulting and Jillian Sidoti of Trowbridge Taylor Sidoti.
As a Session Chair, Newbery brings over 20 years of real estate experience to the panel. Prior to founding AHP in 2008, Newbery co-founded a mortgage company and owned and operated more than 4,000 multifamily units nationwide. Newbery has participated in other IMN conferences, most recently on the Managing Tenants panel at the REO-to-Rental Forum this past May.
Newbery's company, AHP, transitioned to a crowdfunding model in October 2013 following enactment of Title II of the JOBS Act. Less than a year later, over 50 real estate crowdfunding platforms have been created. Since last October, AHP has crowdfunded over $5 million in equity to acquire pools of nonperforming mortgages.
"Conferences such as this provide wonderful opportunities to exchange knowledge and share insight into this nascent industry," said Newbery. "IMN has assembled a great line-up of panelists, diverse in backgrounds and experiences."
American Homeowner Preservation is a socially responsible investment fund manager which empowers accredited investors to purchase equity in pools of distressed mortgages and earn returns of 9-12%. For further information or inquiries please visit https://ahpinvest.com or call 800-555-1055.