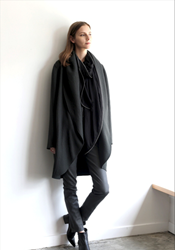 San Francisco, CA (PRWEB) September 05, 2014
Join hosts Lisa Davis of Lisa Davis PR, and Krista Coupar of Coupar Consulting for two days of shopping Barbara Pizik's new Fall collection for men and women, from Elaine Kim, Casmari, and Beryll. With 10% of the proceeds being donated to The Ronald McDonald House, it's sure to be a rewarding and fashionable way to kick off the season.
For twenty years Barbara Pizik has been helping women create wardrobes that are timeless, unexpected and luxurious. Her vision for dressing women is to "keep them modern with clean lines, great fabrics, and with a little edge." Barbara works with her designers to pull together collections with an edited eye, sourcing unique talent exclusive to just a few cities.
The event will be held at the Tete-a-Tete Lounge, a communal workspace for the interior design and lifestyle industry located in the Galleria of the San Francisco Design Center, on Tuesday September 9th and Wednesday September 10th, from 11am to 5pm.
About Lisa Davis PR
Lisa Davis PR is a full service Public Relations agency specializing in Advertising, Brand Identity/Management, Events, Marketing, PR and Social Media.
About Coupar Consulting
Coupar Consulting is a full service business consulting firm exclusively for the interior design and luxury brand industry. They work with creative talent, helping turn a client's passion into a profitable business.