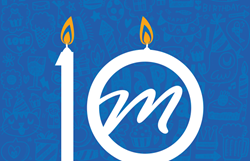 Everything we do in some way should solve a problem and not just solely rely on technology.
Baltimore, MD (PRWEB) September 04, 2014
Mojo Web Solutions, a creative agency in Baltimore, celebrated a decennial anniversary in August, crediting a long season of evolution and focus as the basis for its milestone.
Mojo Web Solutions, a veteran-owned business, kept its footing for the last decade by emphasizing communication, diversification in services, and developing lasting relationships with its client base. When considering what has helped his company grow, Alexander Fakeri, owner and CEO, insists on the importance of "understanding why we are creating something before we know what we're creating. Everything we do in some way should solve a problem and not just solely rely on technology. We pride ourselves on creating custom solutions that are based upon research, data, and proven strategies. We understand what it means to endure and succeed as a company."
Starting in 2004 in a garage with no air conditioning or restroom, Mojo's mainstay was building websites and generating leads for the real estate industry, until the housing market bubble burst and stopped Mojo's growth in it's tracks. Fakeri was forced to focus on the survival of the company and then reevaluate his business plan. Then, as it is now, small businesses had to compete with countless competitors and larger companies wielding more manpower and resources, compelling Mojo to use innovation, enhanced communication with its clients, and top-notch project management to propel itself forward. Today Mojo provides service to a larger variety of clients, from local mom-and-pops to global corporations, a gamut of campaign-based services—websites, mobile, digital, print, television—Mojo looks forward to the future.
Fakeri states, "Mojo has enjoyed great success and survived failures over the past 10 years, but it was the ability to remain steadfast in our mission, having a team with passion for their work, and most importantly, having loyal clients—all of that is what made this achievement possible."
# # #
About Mojo Web Solutions
Mojo Web Solutions is a creative agency located in Baltimore, Maryland. Mojo marketing services focus on custom design, development, mobile, social media, and branding, which allow the team to implement content across multiple media outlets and platforms. Mojo works with businesses to create and execute strategic marketing campaigns, while maintaining a consistent, branded message. Each campaign is specifically tailored to maximize frequency, performance, and reach of the targeted audience. These efforts are bolstered using trackable metrics, yielding detailed analytical reports, helping Mojo clients evolve and grow their business. For more information, please visit http://www.Mojo.biz.