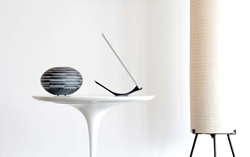 The Yohann iPad stand was thoughtfully designed to offer positioning options that accommodate whatever you are doing anywhere in the house or office.
Basel, Switzerland / Milwaukee, WI, USA (PRWEB) September 03, 2014
Enthusiasts of high style and functionality will want to be among the first to get the newest accessory just introduced for the Apple iPad – the Yohann. Orders placed on Kickstarter enable purchase of the Yohann at 25%-30% off the anticipated retail price.
Functionality, elegance, comfort and versatility are what German architect Berend Frenzel had in mind when he began conceptualizing and designing a revolutionary stand that could elegantly improve the versatility of his iPad as he multitasked at home or in his office. The majority of stands he found focused on durability or stability rather than simplicity and functionality.
As a result, most cases and stands literally shroud the striking, minimalist design of the industry-leading iPad.
Frenzel's dissatisfaction with available alternatives prompted him to create Yohann, a scientifically calculated and weighted stand capable of displaying the iPad at six different angles (three landscape and three portrait). The Yohann will also safely hold the iPad on a variety of surfaces – from desk or countertop to bed, couch, lawn or even one's lap – while improving comfort and usability for numerous purposes in a multitude of environments.
Discover the functionality and versatility of the Yohann at.http://www.yohann.com
"I found it uncomfortable to try to use the iPad while cooking or elsewhere in the house, especially for long periods," said Frenzel. "But the Yohann stand was thoughtfully designed to offer positioning options that accommodate whatever you are doing anywhere in the house or office."
Some iPad owners avoid purchasing cases or stands because many of the bulky or protective products on the market conceal the beauty and minimalistic design of the iPad itself. Frenzel and business partner David Bussa hoped to fill a need for versatility and comfort with the Yohann without devaluing the understated elegance and aesthetic beauty of the iPad.
"It was the same for me. Almost every stand I found was part of a case that you had to apply to the device, which made this beautifully designed tablet appear bulky and complicated," said Bussa. "The Yohann provides a sturdy and versatile stand that is totally functional while not detracting from the aesthetic value of the iPad."
The Yohann video clearly illustrates the simple elegance and functionality of the Yohann iPad stand.
Be among the first to obtain the latest in design elegance through the Kickstarter campaign running August 27 – September 26, 2014. Additional photos available on the Yohann press room.