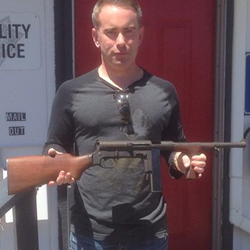 Solana Beach, CA (PRWEB) September 04, 2014
Pawn Stars weapons expert and historian Craig Gottlieb uncovered a rare American submachine gun that was once slated to replace the famous M1928 Thompson submachine gun during World War II. The United Defense M42, which was produced in extremely small numbers, was never adopted by the United States Government as a standard frontline weapon but this unique firearm saw use with agents of the Office of Strategic Services (OSS) as well as with resistance fighters in Nazi occupied Europe.
Gottlieb was offered the firearm by the family of a recently deceased Southern California veteran who has previously owned it. Unsure of what to do with this unique weapon, the collector's family contacted Gottlieb, who then advised them of their options.
"When I saw the gun, my heart stopped. It's such a rare gun, but it is also happens to be illegal to own in modern day America," said Gottlieb, who noted that fully automatic firearms including machineguns have been heavily regulated since the passage of the National Firearms Act in 1934.
"Had the machinegun been declared and registered during a general amnesty offered by the US Government in 1968, it would have been made legal and very valuable," added Gottlieb, who estimated the value of this firearm to exceed $20,000, were it sold on the civilian collector's market.
"Few people knew about the amnesty program," said Ruben Mendiola, one of the largest dealers of collectible machineguns in the United States. "The amnesty was only one month long so most guns, many of which were historically significant firearms, remained illegal to own."
The family was told of the situation and understood that there was only one legal option – to surrender the M42 to the authorities. With Mr. Gottlieb's assistance arrangements were made to turn it over to the San Diego County Sheriff's Department, where Gottlieb holds the position of captain with the county's 'Honorary Deputy Sheriff' program.
The Sheriff's department maintains a museum in Old Town, San Diego where rare and historic firearms obtained by the department are on permanent display.
Craig Gottlieb has been a multi-season regular on History's Pawn Stars, and is the author of several books on antiques and collectibles. A former U.S. Marine, Gottlieb has traveled the world in search of famous military artifacts. He is renowned for uncovering uniforms belonging to Saddam Hussein, Adolf Hitler and other villainous historical figures.