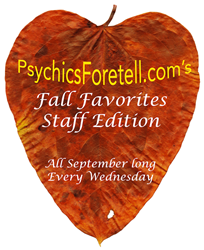 Philadelphia, Pa (PRWEB) September 03, 2014
Starting today, the staff at PsychicsForetell.com has decided to share some of their favorite things for the fall through Foretells blog page. Throughout the month of September the staff will dedicate their Wednesday blog series to spotlight their favorite books, fall activities, movies, TV shows, you name it.
"It's a nice way for people to get to know us more and also open them up to activities or ideas for things to do or try out this fall with their friends or family." says one of Foretell's staff members.
Foretell's staff would like to invite readers to follow them on their social media outlets as well as their website's main blog page to stay connected in with this series. The staff also would like to open up the forum on their social media pages for their followers to share some of their Fall Favorites.
"We would like to have this go a bit further than just us opening up. We want to know what shows are you anxiously awaiting to come back; or don't want to see go, do you have any quick organization hacks for back to school, home remedies for common cold? We want to open it up for our clients and readers to throw in their ideas and tips too." says customer representative Laura.
PsychicsForetell.com is a family run psychic network that has been in business since 1992 offering their clients honest and accurate service.