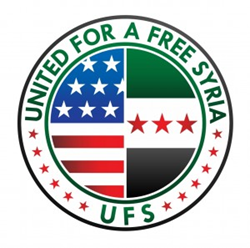 His death was not in vain, because it will further alert the world to ISIS's barbarous rampage of terror
Washington, DC (PRWEB) September 03, 2014
The Coalition for a Democratic Syria (CDS), a coalition of groups representing over 100,000 Syrian Americans, extends its profound condolences to the Sotloff family following the brutal murder of American reporter Steven Sotloff by the Islamic State of Iraq and Syria (ISIS). Sotloff was well-regarded by Syrian Americans as a stellar journalist and sincere humanitarian. His death will be deeply mourned within the Syrian American community.
"We express our deepest condolences to the Sotloff family. Members of our community who met with Sotloff were always moved by his genuine solidarity with the Syrian people," said CDS Chairman Dr. Yahya Basha. "He truly sought to give a voice to ordinary Syrians struggling under the regime's brutal atrocities to seek a better future. His death was not in vain, because it will further alert the world to ISIS's barbarous rampage of terror against these same Syrians. We salute his life of bravery and compassion and we extend our prayers to the Sotloff family."
Sotloff was a freelance journalist who reported from Bahrain, Turkey, Egypt, Libya and Syria to major news outlets such as TIME, Christian Science Monitor, and World Affairs. In December 2012, he reported from the frontlines of Aleppo on regime bombings of civilian targets such as breadlines. In January 2013, he visited the internally displaced persons camp at Atmeh to report on the squalid living conditions and sparse resources in the camp. He also reported on members of Bashar al-Assad's Alawite sect who had defected from the regime.
SEE: "Dissent Among the Alawites" by Steven Sotloff, September 10, 2012.
SEE: "From Bread Lines to Front Lines" by Steven Sotloff, December 24, 2012.
SEE: "Syrian Purgatory" by Steven Sotloff, January 14, 2013.
Sotloff disappeared in northern Syria in August 2013, and for months his fate was unknown. On August 19, 2014, Sotloff was forced to appear in an ISIS propaganda video showing the beheading of American reporter James Foley. The ISIS "executioner" threatened at the time that Sotloff would soon be executed. Sotloff's mother, Shiley Sotloff, released a heartbreaking video urged ISIS's leader to spare her son's life, but the terrorist group ignored the plea, publishing a horrifying video of his execution today.
A vigil will be held on Wednesday, at Sotloff's former university, UCF, to "spread the word and remember this American hero."