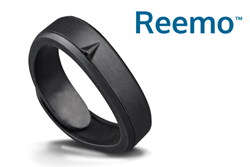 Minneapolis, MN (PRWEB) September 03, 2014
Playtabase has launched their IndieGoGo campaign to make Reemo™ available for order. Playtabase is one of the startups participating in Microsoft Ventures Seattle Accelerator in Partnership with American Family Insurance that launched in August, 2014.
"There is a tremendous opportunity for startups that are creating intuitive wearables like Reemo that can make our lives easier. We are thrilled to have Playtabase participate in our Microsoft Ventures Accelerator in Partnership with American Family Insurance and look forward to their success working to make homes smarter and safer." - Rahul Sood, GM, Microsoft Ventures.
Reemo has been in development since 2012, and is the brainchild of CEO and founder Muhammad Abdurrahman. Muhammad was inspired to create Reemo after he witnessed his father struggle with everyday tasks following a stroke. While the inspiration for Reemo was to make the physical world more accessible and interactive for individuals with disabilities or other mobility limitations, the wearable technology also creates a connected environment in the Internet of Things.
Playtabase completed their early stage prototypes through self-funding and just announced plans to raise $50,000 through Indiegogo, a popular crowdsourcing platform to expedite preparations for their launch. The company expects to launch Reemo in the Spring of 2015, according to Abdurrahman.
About Playtabase LLC: Playtabase was founded in 2012 to create "fun and meaningful solutions to reinvent your world." Its flagship product, Reemo, is a wrist-worn device that enables users to control appliances and electronics such as lights and thermostats with intuitive gestures. Reemo is life-changing for people with limited mobility and provides tech enthusiasts a seamless point-and-control interface for appliances, devices, electronics and home automation systems.