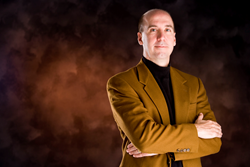 Humility is necessary when contemplating the future because the future may–and probably will be–stranger than we can suppose.
New York, NY (PRWEB) September 04, 2014
Jack Uldrich, global futurist and best-selling author of "Foresight 20/20" will be presenting seven keynote speeches nationally and internationally throughout the month of September.
Uldrich is a renowned business trend expert and the author of eleven books, including: "The Next Big Thing is Really Small: How Nanotechnology will Change the Future of Your Business" and "Jump the Curve: 50 Strategies to Help Your Company Stay Ahead of Technology." A former naval intelligence officer and Defense Department official, Uldrich also served as the Director of the Minnesota Office of Strategic and Long Range Planning under Governor Jesse Ventura.
His schedule for speaking during the month of September is currently as follows:
Sept. 4: GameStop Executive Summit, Southlake, TX
Sept. 8: Western Energy Institute Annual Meeting, Kelowna, British Columbia
Sep. 16: AgBank District CFO Meeting, Minneapolis, MN
Sep. 17: Packaging Machine Manufacturers Institute (PMMI), Chicago, IL
Sep. 21: CPSU Society, Anaheim, CA
Sep. 29: The National Council for Continuing Education & Training, Denver, CO
Sep. 30: Textile Rental Services Association, Las Vegas, NV
A regular guest on CNBC, MSNBC and CNN, and FutureScape, Uldrich is also a contributor on emerging technologies and future trends for a number of publications, including The Wall Street Journal. His September engagements will range from topics such as the future of gaming to the futures of education and energy. A synopsis of some of Uldrich's ideas on tomorrow's transformational technologies can be found in this Forbes article: 10 Game-Changing Technological Trends Transforming the World of Tomorrow.
Uldrich is a frequent speaker on the technology, nanotechnology, change management and leadership lecture circuits, and has addressed numerous businesses, trade associations, educational and investment groups around the world, including IBM, Cisco, USAA, General Electric, Wipro, PepsiCo, United Healthcare, SouthernCompany, Novo Nordisk, Verizon, General Mills, Pfizer, and the U.S. Chamber of Commerce. He custom designs his speeches and has been quoted as setting "a tone of optimism and creativity" for each group he encounters.
Parties interested in learning more about Jack Uldrich, his books, his daily blog or his speaking availability are encouraged to visit his website at: http://www.jumpthecurve.net. Media wishing to know more about the events or interviewing Jack can contact Amy Tomczyk at (651) 343.0660.