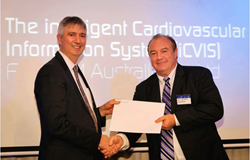 FUJIFILM Australia identified a need in the cardiovascular market to improve cardiology care & analysis using smart clinical informatics software, with the aim of improving workflows, clinician efficiency, patient safety & reducing workplace stress
Adelaide, South Australia (PRWEB) September 04, 2014
The nation's leaders in innovation had their night of nights, as the iAwards celebrated 20 years. The iAwards honours the "best of the best" from companies at the cutting edge of technology innovation through to leading professionals across the industry. Most importantly, the iAwards recognises the achievements of home-grown Australian innovators.
"FUJIFILM Australia identified a need in the cardiovascular market to improve cardiology care and analysis using smart clinical informatics software, with the aim of improving workflows, clinician efficiency and patient safety and reducing workplace stress for Clinicians. We couldn't be more proud in winning the National iAward for the iCVIS platform – a testimony to the power of working with smart Australian vendors, such as Alcidion, and leveraging their world class technology," commented FUJIFILM Australia General Manager, Mr Eric Lebail.
The iAward was received for iCVIS in the Health category, which recognises an outstanding ICT product developed by an Australian organisation. The award covers the whole gamut of Healthcare technologies that support superior patient outcomes across the broad spectrum of services and activities delivered by health-care professionals.
Alcidion CEO, Ray Blight, said that the whole company was delighted to see its customer, FUJIFILM Australia achieve this nationally recognised honour. "As Australian innovators, we couldn't be more pleased to be part of this achievement. iCVIS has enjoyed great success and growth since our launch early this year, and this award just tops that all off. iCVIS provided Alcidion with an exciting opportunity to be able to partner with FUJIFILM on this initiative, and it's pleasing to have another opportunity to work with Western Health as the luminary site to prove this innovation," Mr Blight said.
FUJIFILM Australia (Medical Systems) have a strategic partnership with Alcidion and over the past eighteen months have developed the leading edge intelligent Cardiovascular Information System (iCVIS) to deliver advanced workflow optimization, patient safety improvements and clinical informatics efficiency gains to cardiovascular clinicians.
Alcidion developed iCVIS on the shoulders of its next generation health informatics infrastructure, Miya, which is already deployed extensively across Australian healthcare.
Alcidion are now working closely with FUJIFILM to develop the iCVIS product at Western Health, FUJIFILM's luminary site for iCVIS development.
Russell Yardley, Chairman of the iAwards Steering Committee, commented on the evening: "The iAwards demonstrate the importance of innovation to Australia by bringing together and recognising the best young innovators and companies making a difference. By identifying outstanding achievers in innovation, we are providing exemplars to the rest of industry around what they should aspire to."
Together with major partners the State Government of Victoria and Hills, the iAwards champions ICT innovations which have the power to positively impact society and celebrates both ICT's pioneers and creative thinkers.
ABOUT ALCIDION
Alcidion Corporation Pty Ltd is an innovative health informatics company that specializes in clinical products that improve productivity, safety and efficiency. Alcidion's solutions target key problems for Emergency Rooms, Inpatient Services and Outpatient Departments and are built upon a next generation health informatics platform, which incorporates an intelligent EMR, Clinical Decision Support Engine, Data Integration Capability, Smartforms, Terminology Support and Standards Based Web Services.
Alcidion's focus is on delivering solutions that enable high performance healthcare and which assist clinicians by minimising key clinical risks, tracking patient progress through journeys and improving quality and safety of patient care.
ABOUT FUJIFILM
FUJIFILM Corporation, headquartered in Tokyo, Japan, is a wholly-owned subsidiary of FUJIFILM Holdings Corporation. The company was founded in 1934 as a producer of photographic film under the name Fuji Photo Film Co., Ltd. Driven by original research and development, FUJIFILM brings continuous innovation and leading-edge products to a broad spectrum of industries, including electronic imaging, photofinishing equipment, medical systems, life sciences, graphic arts, flat panel display materials, and office products, based on a vast portfolio of digital, optical, fine chemical and thin film coating technologies.
Throughout its activities, FUJIFILM seeks to contribute to the advancement of culture, science, technology and industry, as well as to improved health and environmental quality.
ABOUT WESTERN HEALTH
Western Health (WH) manages three acute public hospitals: Western Hospital at Footscray, Sunshine Hospital at St Albans, and the Williamstown Hospital. It also operates the Sunbury Day Hospital and a Transition Care Program at Hazeldean in Williamstown. A wide range of community based services are also managed by Western Health, along with Drug and Alcohol Services.
Western Health provides a comprehensive, integrated range of services from its various sites, ranging from acute tertiary services in areas of emergency medicine, intensive care, medical and surgical services, through to subacute care and specialist ambulatory clinics. Western Health provides a combination of hospital and community-based services to aged, adult and paediatric patients and newborn babies.
Employing nearly 6500 staff, Western Health has a strong philosophy of working with its local community to deliver excellence in patient care.