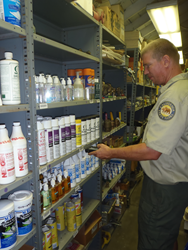 Passport saved us so much time. We no longer needed to look through pages of handwritten item lists because we could rely on the accuracy of our barcode scanner and Passport database
San Jose, California (PRWEB) September 03, 2014
Since 1864, California State Parks has helped preserve the state's biological diversity and protect its most valued natural and cultural resources. Among the organization's 280 park units, San Clemente State Beach purchases and issues stock inventory items to state beaches in Southern California. In order to improve the efficiency of their inventory management, the park needed a barcode-based inventory system that could automate inventory tasks in the stock room.
The State Park had been unsuccessfully tracking their stock inventory manually. It consisted of over 2000 items, including electrical parts, office and cleaning supplies, documents, and various materials. "Counting what we had and writing down orders by hand was a nightmare; the process was totally unorganized," said Laura Griggs from San Clemente State Beach's purchasing department. The team wanted to avoid guessing which items filled their shelves, the quantity of items, and who the vendors were. Also, they needed a system to maintain balanced stock inventory levels and be able to handle impromptu supply orders if emergency situations occurred at any of the parks in the district.
For Griggs and her team, the decision to move forward with ASAP System's Passport became clear after a few Google searches, extensive research, and an insightful one-on-one online system demonstration. The department took advantage of barcode tracking capabilities to easily receive and enter stock inventory items into the centralized database. All data collected from the mobile barcode scanner could be organized in the way the team needed. Once in the system, Griggs and her team could effortlessly search for inventory items they wanted to issue out to their park or to any of the other units in the district. Other inventory management tasks, such as conducting physical inventory, took a fraction of the time to perform. In the end, Passport helped improve tracking standards and procedures at the State Park through efficient inventory system transactions.
"Passport saved us so much time. We no longer needed to look through pages of handwritten item lists because we could rely on the accuracy of our barcode scanner and Passport database," says Griggs.
Click here to read the full case study and other success stories.
About ASAP Systems
ASAP Systems is a market leader in inventory management and asset tracking systems that uses barcode and RFID technology with Motorola barcode scanners, smartphones, and tablets. We help improve profitability by eliminating manual data entry, paper files, and forms and by automating record keeping. With our inventory and asset software, businesses know 24/7 how and where assets and inventory are received, stored, used and disposed of in the warehouse, in the field, and in the office.