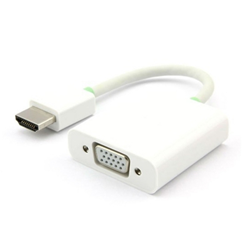 (PRWEB) September 03, 2014
Recently, Hiconn Electronics, a well-known electronics accessory manufacturer, has unveiled its new range of HDMI to VGA with Audio Adapters. What's more, the supplier has launched a big adapter promotion to expand its market share. On its website, all the newly announced HDMI to VGA with Audio Adapters are available at discounted prices, up to 40 percent off.
"We are glad to release our new HDMI to VGA with Audio Adapters for customers from around the world. As is commonly noted, the demand for practical adapters is huge in the global market. Thus, our major officials decided to create these new HDMI to VGA with Audio Adapters. Please pay attention that the promotion will last until October 30, 2014," the company's development manager says.
The detailed information about the company's HDMI to VGA with Audio Adapters is as follows:

Easy to use, installs in seconds, no settings and it is a resolution pass-through converter
Purely for conversion between video formats, but not convert the input/output video resolutions
Support VGA output with 10-bit resolution up to 165Mhz pixel rate (1080p and UXGA)
Audio output
Compliant with HDMI 1.4b
Support HDCP 1.4
Blister packing
True enough, Hiconn Electronics insists on employing experienced designers and skilled workers. Most of its high quality adapters are popular in the global market. Moreover, the firm has recently introduced a lot of high end machinery and equipment.
About Hiconn Electronics
Hiconn Electronics (Shenzhen Hiconn Electronics Co. Ltd.) is devoted to designing and manufacturing a wide range of connection cables and customized cable assemblies, offering many HDMI cables, VGA cables, SATA cables, USB cables, 1394 cables, DVI cables, SCSI (Small Computer System Interface) and more. For more information, please visit http://www.hiconn.net/.
Contact Person: James Yin (Sales Director)
Company Name: Shenzhen Hiconn Electronics Co., Ltd.
Address: Shenghua Building., Xixiang Road., Baoan District, Shenzhen, Guangdong Province, China
Zip Code: 518102
Tel: +86-755-8109 8345
Fax:+86-755-2779 3497