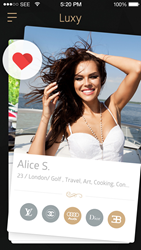 Los Angeles, California (PRWEB) September 05, 2014
Luxy today facilitates singles who enjoy a fashionable lifestyle to be connected with other similar-minded people. It is invented to cater to lucrative, wealthy singles with a terrific fashion sense. On Luxy, people get started by picking their most desired luxury brands. That information is then used by the app's protocol to help users find their most suitable match. If users first try Luxy and discover that they do not identify most of the luxurious brands displayed on it, they probably need to go for a more common dating app instead.
The Chief executive officer of Luxy, a prosperous Silicon Valley guru, made this application after his own unfavorable incidents in the realm of online and mobile dating. "I'm solo and I've experimented on lots of major dating websites and applications out there. Not one of them focused on things I needed. These were full of too many con artists plus they all appeared more targeted on forcing as many members as plausible in my direction. There wasn't any true thing to consider for harmonizing me with somebody that matches my way of life. That's the reason why I made Luxy , to make sure that hectic, thriving people and celebs can find one another without having all the rubbish and quests that make it extremely tough to do well on other websites and applications. "
Luxy aims to provide the best platform to meet successful and attractive people in the easiest and most fun way through two of its unique features Play and Moments, and the progress it has made so far is suggesting its infinite potential. Also, like all genuinely luxurious support, Luxy understands that stability and customer support are important, so they cook a fast solution crew to help people with any concerns and to separate out and remove any suspect users immediately.
Luxy is available for download on iTunes: https://itunes.apple.com/us/app/luxy-easiest-way-to-meet-real/id873518909?ls=1&mt=8