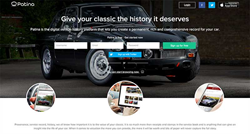 We have all seen in recent classic car auctions, how those cars with the best and most complete histories achieve the highest prices
Abingdon, Oxfordshire (PRWEB UK) 4 September 2014
Launched earlier this year Patina allows users to create a digital history for their car, capturing a much richer record using media such as photos, videos and documents. The launch of the classics only site brings this same functionality to classic car owners and helps them to capture the detailed history and provenance of their vehicles.
"We have all seen in recent classic car auctions how those cars with the best and most complete histories achieve the highest prices" says Tim Joslyn, founder. "Those histories are more than a service record, they detail the major events, the different owners as well as the works carried out, they tell the story of the car's life. Patina allows this to be captured in a secure digital record that is much more insightful then a few bits of paper and this helps to create value." he added.
With class leading security Patina can be used to back up existing history, get updated when new works are carried out and can be transferred with the vehicle if it is ever sold.
Available free of charge for car owners on the web and as an iOS app, Patina has also established a number of relationships with the UK's leading classic car restorers, insurance companies and auction houses.
For more information and to add a car register at https://classics.getpatina.com or to explore a trade relationship contact hello(at)getpatina(dot)com.