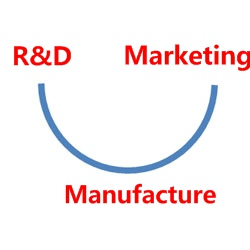 (PRWEB) September 03, 2014
Recently, HH Marketing Research Association, a professional research institute that provides market research reports, has released a new report explaining that DOM business model is a new way for Chinese entity industry. (http://www.hhdigital.com/archives/21)
The followings are a few key points of the report:
DOM (Design Original Manufacturer) Definition:
DOM is a business model that a manufacturer owns innovative and/or patented technologies, to produce products that are branded by the buying company and to build a win-win new business model in the industry. Intellectual property rights owned and/or developed by the ODM are used to distinguish the ODM from OEM and ODM.
In the commodity era, industry chain is divided into Research&Development – Production – Marketing. A smile curve is specially created to describe the industry chain.
It is known that R&D and marketing account for the highest portion, while production only get the lowest value in the value of the industry chain.
Being the world's factory, China has become a symbol of the lowest part in a smile curve. Once we mention China, something typical comes into our minds - the factories with all lights on, the roaring machines, and the obscure workers…
Back to a few years ago, Chinese companies produce products that designed and branded by buying firms, which is a main cause of professional name – OEM (Original Equipment Manufacturer). There'll be no patent without the technology of the product design. An example is Yue Yuen Holding Industrial Holdings Limited (00551.HK, in Dongguan, Guangdong, China), which is an original equipment manufacturer that produces footwear for international branded name companies such as Nike, Adidas.
Gradually, Chinese factories have their own primary design capabilities, to produce and design products that branded by buying firms, which forms a professional non - ODM (Original Design Manufacturer). Although the factories are capable with the ability of product design, the lack of core and/or proactive technologies compels the manufacturers to hand over their owned technologies to buying firms, ultimately losing the crucial control rights. A typical example is Foxconn. It is a high-tech company that manufactures products, including computer, communication products, electronic goods, digital content, auto parts, path and more 6c products. Its clients almost include the all world's electronic brands such as APPLE and so on.
After several years' effort, Chinese technology workers integrate current technologies to create some core technology products for emerging industry such as electronic cigarettes, or to develop a new generation of innovative technology in the old industry. In these industries, Chinese factories not only have their own design, as well as the advantage of time that the factories can advance to occupy core patents group. In this case, Chinese factories have occupied the industry and core patents, which forms a new division of industry chain value in which patents are owned by manufacturers, while selling channels are owned by buying companies. A new win-win situation forms. This is the new business model - DOM (Design Original Manufacturer).
Chinese companies have missed many opportunities to apply patents for the high-value added products in many industries. This makes it more necessary to position DOM clearly.
Four Keys to Successful DOM Business Model:
A. Core Industrial Patents Applications
We should be proactive and advance to develop or create innovative technologies in the old industry, develop the possible future technologies, as well as processing a large scale of the patent application.
B. Core Industrial Patents No Bypass
Don't leave any chances that latecomers may bypass any patent. As the manufacturing industry is developing, some technologies will become very simple in the future, even if it's very difficult to achieve in the current phrase. We must apply patents from all sides. Don't be afraid to spend money and time on researching and developing.
C. International Applications
Apply patent in the whole world. In order to achieve global strategy, we should apply from PCT at first to get a 30 months priority, then accordingly process global application step by step to obtain patents from many countries.
D. Share Patents
With the core patents group, we should pay attention to longitudinal layout. Every new product has its competitors. It's only a matter of time – now or the future. So we should give out enough profit to both companies of the upstream and downstream, which is a key cause for the booming industry.
Meanwhile, we should also pay attention to horizontal layout. Usually, it is difficult to promote revolutionary technology, which will have an influence on using and promoting patents. So we need to leave some chances to our competitors. At some appropriate time, we can charge them for patent fee.
The Contribution of DOM Business Model:
A. The company that has formed a DOM industry business model, often will be forced to focus on the concentration of production, which can take advantage of social resources to facilitate the large-scale effect to cut down costs and stabilize the quality of product.
B. The company that has formed a DOM industry business model is forced to put into large investment in developing patented technologies that can make perfect products in a short time. In the meantime, it can lead or solve the needs of customers to improve the quality of human life.
How to Utilize the DOM Business Model in Existing Industries:
A. Take the opportunities. Respect others' intellectual property, apply the surrounded patents to win the future.
B. Work together to establish a patent alliance to face the challenge.
C. Keep technologies updated rapidly to win the control right in the future.
D. Actively participate in the establishing of international standards in relevant industries, improve the frequency of using patents, to raise the right to speak.
Typical Examples of How to Create a DOM Business Model (Learn the core knowledge in positive and negative ways):
A. Successful example: Qualcomm Incorporated
B. Floor industry: the patent giants for floor lock catches: UNILIN and VALINGE work together from 2007, to charge Chinese floor industry exorbitant patent fee.
C. Two Japanese bearing companies: NSK and NTN
D. Microsoft
E. The rare-earth industry: only 8 Chinese companies get the patent licenses from Hitachi Metal firm: Zhongke Sanhuan (000970, China Stock), AT&M (000969), Ningbo Yunsheng (600366) and Yantai Zhmag (300224) and others.
About HH Marketing Research Association
HH Marketing Research Association is the most comprehensive collection of market research reports. HH Marketing Research Association services are especially designed to save time and money of our clients. The reports from this association offer primary analysis of Chinese markets along with a global overview for varied industries to help executives, managers, analysts, librarians and all business stake holders in their decision making process. Click to see more: http://www.hhdigital.com/archives/21
Author: Liu Qiuming