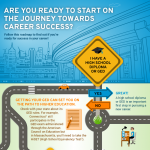 Rocky Hill, CT (PRWEB) September 04, 2014
Porter and Chester Institute has created an easy-to-follow new Roadmap to Success Infographic designed to guide readers on a path to career search success. The roadmap and its handy road signs take the reader on a useful journey by offering simple prompts that can be answered with yes and no responses that move them further along their path to success.
The roadmap begins with the statement: "I have a high school diploma or GED." A yes answer sends the reader along to the next question, while a no response offers suggestions on what they might do to get closer to career success by obtaining a high school equivalency diploma. It even tailors its tip to the reader's individual state, noting that residents of Connecticut can take a GED exam, while those living in Massachusetts need to take the HiSET exam (High School Equivalency Test).
The infographic offers several practical tips and suggestions for success. Among the pit stops along the reader's roadway are guideposts for career training, resume building, job searching and networking. It emphasizes the importance of dressing and acting professionally in work, at school and even online. It notes the benefits of creating a professional LinkedIn account but warns against posting inappropriate content on social media. One prompt states: "I am proud of what I find when I 'Google' myself" and gives three easy tips to remedy the situation if the answer is no.
In addition to general advice, the infographic outlines the specific career training areas available at Porter and Chester Institute including programs in automotive technology, computers, healthcare, electronics, HVACR (heating, ventilation, air conditioning and refrigeration) and electrician training .The infographic also gives supporting evidence of the long-term benefit of career training.
Porter and Chester Institute has 9 locations in Connecticut and Massachusetts and offers 10 different career training programs.
About Porter and Chester Institute:
Porter and Chester Institute, Inc. is a Connecticut-based postsecondary institution with over 60 years of experience in providing technical, business, and health related occupational preparation. Founded in 1946, the Institute trains over 3,000 students annually through its nine campuses in Connecticut and Massachusetts. Porter and Chester Institute is accredited by the Accrediting Commission of Career Schools and Colleges (ACCSC), is approved by the Connecticut Office of Higher Education, and licensed by the Commonwealth of Massachusetts Division of Professional Licensure, Office of Private Occupational School Education. Porter and Chester Institute uses hands-on education to prepare students for successful careers in a variety of fields.