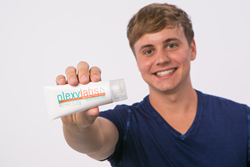 Tuscon, AZ (PRWEB) September 03, 2014
Tuscon based company, Plexylabs, launches their new all-natural acne treatment, Nothing to Hide.
The idea behind the all-natural treatment came in 2012 when 21-year old nursing student, Jordan Austin, was searching for a way to treat his own acne. After conducting extensive research, he created a way to create a cream out of Beta-Sitosterol, a completely natural compound that is made from an organic plant based, sterol.
Amazed by his results, Jordan and his family decided to put everything they had into bringing this product to the consumer market.
According to Plexylabs, Nothing to Hide is the only acne cream that is made with Beta-Sitosterol and targets not only acne but sebaceous gland disorders.
Their ingredients work with skins natural process to slow down oil production and reduce blemishes.
Beta-Sitosterol is a completely natural compound that is made from an organic plant based sterol. Nothing to Hide has 3% of high-grade liquid Beta-Sitosterol, that nourishes skin and calms sebaceous glands. Beta-Sitosterol can be found in everyday food choices like fruits, vegetables, nuts and seeds.
Sebaceous glands are the microscopic glands that produce oil; both adults and teenagers can suffer from gland disorders like Acne Vulgaris, Sebaceous Hyperplasia, Seborrheic Dermatitis, Milia and Steatoma.
The first step to clear skin is to calm the glands, which visibly reduces red spots and blemishes.
Nothing to Hide offers a natural soothing option as an alternative to using harsh products that can over dry.
The core ingredients in Nothing to Hide, Beta-Sitosterol, Niaciminid (Vitamin B3), Zinc Oxide, and Allantoin, are unique when compared to those harsh acme treatments that they kill both bad and good bacteria on the face.
Nothing to hide retails for $15.