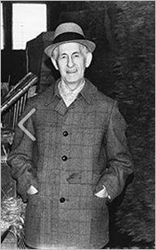 "Hard-working immigrants, like my great-grandfather and countless others truly shaped our country into what it is today."-Andrew Libman
Arcola, Ill. (PRWEB) September 05, 2014
The Libman Company, a 118-year old American manufacturer of cleaning products, has recently been featured on "This Built America," a new multimedia platform from AOL exploring the companies and people reimagining American manufacturing. For The Libman Company, being chosen to represent Illinois in "This Built America" is proof that Cuppel Libman's move to America in the late 1800s did indeed give his family the chance they weren't offered in tsarist Lithuania.
The Libman Company joins a national movement in "This Built America" that is devoted to supporting American companies and American-made products. AOL is proud to support the effort along with sponsor Ford Trucks. Through the year, the editorial and video teams will explore 50 states in 50 weeks to bring 50 stories of the people who are bringing back manufacturing to America. The platform is produced in coordination with Man Made Content.
"We are honored to have been selected to participate in the 'This Built America' series," said Andrew Libman, one of the further-generation Libman Company leaders. "Hard-working immigrants, like my great-grandfather and countless others truly shaped our country into what it is today. We are proud to continue Libman's heritage and at the same time help to build the American tradition of providing opportunities and quality products," Libman added.
The Libman episode of "This Built America" features the Libmans – father Robert and son Andrew – who discuss what happens when the third and fourth generations of Libmans continue the business that started back in 1896. Others profiled in the episode are members of the Gauna family, immigrants from the vital city of Cadereyta, Mexico. Like the Libmans, the Gauna's have seen several generations become integral members of The Libman Company's deep family.
You can view the full episode and more on The Libman Company by visiting this website: http://www.thisbuiltamerica.com/illinois/
About The Libman Company
The Libman Company is a family-owned company that has been making quality cleaning tools since 1896. The company manufactures products from brooms and mops to more specialized tools for kitchen and bathroom cleaning and industrial uses. Libman proudly manufactures most of their products in the United States, including the company's well-known Wonder® Mop. For more information about the Libman Company, please visit http://www.libman.com.
# # #