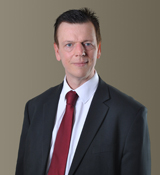 I am grateful for the opportunity Duncan Lewis has given me to develop my practice as Child Protection Solicitor, to which I have been committed for many years.
Birmingham, United Kingdom (PRWEB UK) 4 September 2014
Legal 500 recommended legal firm Duncan Lewis Solicitors are pleased to announce that Law Society Children Panel Member and Assessor Richard O'Hagan has joined their Childcare Law department as a Consultant Solicitor based in the firm's Birmingham branch.
Duncan Lewis Childcare solicitors are a leading provider of Legal Aid services and can advise on a range of child care matters. Richard will be joining a number of Childcare Law Solicitors specialising in Childcare law matters including Care Proceedings; Child abuse; Children Taken into Local Authority Care; Court of Protection and International child abduction.
Richard stated of his move to the firm:
"I am very excited by the opportunities presented by joining Duncan Lewis. It is a large, progressive and vibrant firm. In my first few days, I have been struck by the warmth and support of my colleagues and also by the cultural and ethnic diversity within the firm. I always felt that a firm that is in itself diverse is better placed to meet the needs of the diverse community it serves. I am grateful for the opportunity Duncan Lewis has given me to develop my practice as Child Protection Solicitor, to which I have been committed for many years, and to balance that against the responsibilities of my other roles as an assessor for the Law Society's Children Panel and as a part-time Judge."
Richard O'Hagan joined Duncan Lewis Solicitors in July 2014. He is a Consultant Solicitor in the Child Care department based in the firm's Birmingham office. Richard is a member of the Law Society's Children Panel as well as a part-time Judge and an assessor for the Law Society.
Richard has over 15 years experience in Family Law. He graduated in Law at Cardiff University and gained his professional qualification at the College of Law in Chester. He was admitted to the Roll of Solicitors in 1998. Richard has practiced as a Solicitor in Birmingham for the majority of his career and is well known to other professionals in including the Judiciary, Solicitors and Barristers, Guardians and Court Staff within the Birmingham area.
Richard possesses a wealth of experience in Family and Childcare Law. Richard's areas of specialty include representing children who have been taken into care; representing parents whose children have been removed from their care by the Local Authority and representing parents with mental health problems and learning difficulties.
Richard has been a member of the Law Society's prestigious Children Panel since 2003, meaning that he has been accredited by the Law Society as being an expert in Child Law. Furthermore was appointed as an assessor for the Law Society Children Panel in 2012. Since then, he has not only been a member of the panel himself but he has also been responsible for helping to decide whether other Solicitors who wish to join the panel meet the necessary standard.
Richard was appointed as a part-time Judge in 2011. He regularly sits as a Judge in courts across the central region of the country.
Richard joins the team of specialist Family and Childcare Solicitors in the Duncan Lewis Birmingham branch. Duncan Lewis Solicitors' nationwide Childcare Law department consists of 55 Solicitors, 18 Consultants, 28 Panel members and 23 Caseworkers.
About Duncan Lewis
Duncan Lewis, established in 1998, is the largest civil legal aid practice in the UK and one of the country's fastest growing firms of solicitors, serving both corporate entities and private individuals from offices across London and throughout the UK. A recommended leading law firm by Law Society Lexcel, Legal 500; Duncan Lewis employs over 500 members of staff and was the first law firm to achieve the Investors in People Gold Quality Standard Mark in 2009. Representing over 25,000 clients per year, the company has an excellent reputation in the Administrative Court, High Court and Court of Appeal in the Immigration, Public law and Family/Child Care jurisdictions.
Established areas of law are: business immigration, child care, civil liberties, clinical negligence, community care, crime and fraud, dispute resolution, debt and insolvency, employment, family and divorce, housing, asylum and immigration, litigation, mental health, personal injury, prison law, professional negligence, public law and administrative law, regulatory matters and welfare benefits.