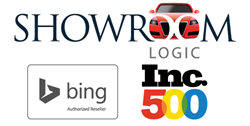 Miami, Florida (PRWEB) September 04, 2014
Showroom Logic, the automotive industry's premier search engine marketing (SEM) company, is pleased to announce that after several months of testing through their proprietary AdLogic platform they have officially rolled-out their new Bing integration as part of their alliance with the Yahoo! Bing Network (YBN).
Showroom Logic focuses solely on providing paid search, display, re-targeting, and pre-roll advertising solutions to automotive dealerships. They provide full-service campaign management, one-on-one customer support, detailed reporting, and marketing guidance to help customers get the most of their online advertising. Founded in 2009, Showroom Logic quickly obtained status as a Google AdWords Premier SMB Partner. In March 2013, Showroom Logic became a Bing Authorized Reseller, further establishing them as serious competition within the automotive SEM vertical.
The Bing integration is Showroom Logic's newest offering. Through their automotive-specific, proprietary AdLogic platform, they now offer many of the same features that are seen in Google AdWords in the Yahoo! Bing ecosystem. New and existing Showroom Logic customers will have the ability to take advantage of several AdLogic campaigns for the search network, including Brand, OEM, New Make / Model, and more (the integration is not available for Display).
"Showroom Logic understands the value that the Yahoo! Bing network offers, and we're excited about extending this opportunity to our customers," said Moe Izadpanah, VP of Strategic Development at Showroom Logic. "The convergence between the two networks reaches a broader spectrum of customers and will allow dealers the opportunity to advertise in a larger search ad marketplace."
The YBN accounts for nearly one-third of the search market in the U.S., with automotive trends on the rise. In December 2013, they were responsible for 27% of all automotive paid clicks and received 24 million total automotive searches.
"We are excited to formally expand and deepen our partnership with Showroom Logic," said Kelly Thomas Nojaim, Director of Bing Ads' Partner Sales at Microsoft. "The Yahoo! Bing Network will provide Showroom Logic's customer base with access to 10M automotive searchers each month that are not reached on Google."
About Showroom Logic
Showroom Logic is an innovative technology company focused on the automotive industry and specializes in providing digital marketing solutions to car dealerships. Their proprietary AdLogic platform was built from the ground up and allows clients to take a hands-off approach to their paid search, display, re-targeting, and pre-roll marketing efforts. Founded in 2009, Showroom Logic has grown to over 100 employees and currently works with six of the top 10 Mega-Dealers, as well as over 1,000 dealerships nationwide. For more information, visit http://www.showroomlogic.com/