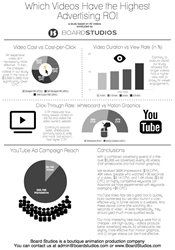 Hoboken, NJ (PRWEB) September 09, 2014
Marketing managers and social media strategists are always looking for information to support their activities. Through its latest survey regarding YouTube advertising, Board Studios has pinpointed useful information for these professionals about optimizing video campaigns for effectiveness and reach.
Board Studios clients are usually marketing managers of companies ranging from startups to Fortune 500 companies, department heads needing internal communications tools, and C-level executives. They are often interested in answering these questions:

Should the video be in the whiteboard or the motion graphics style?
How long should the video be?
Does it make a difference if the client goes with a more expensive production house?
Board Studios set out to provide some answers by looking at the variables and metrics available. The company chose 40 videos, evenly split between whiteboards and motion graphics animations, and spent its own cash to advertise them on YouTube as pre-roll ads. It also categorized the videos according to 3 parameters: animation style (whiteboard versus motion graphics), duration (1-4 minutes), and budget (less than $5K all the way up to $20K).
The primary finding was that YouTube video ads delivered great results. With a combined advertising budget of over $5,000, Board Studios received 300,000 impressions (an effective $18 CPM=cost per thousand impressions), 40,000 views (people who watched more than 30 seconds of a video, at $0.14 CPV=cost per view), and 1,600 clicks (a $3.42 CPC=cost per click).
Traditionally, YouTube video ads have been considered purely an awareness tool that is unreliable for generating traffic and leads. But overall, Board Studios executives were pleasantly surprised by the results of YouTube advertising. They targeted companies and keywords with highly competitive keywords and found YouTube video ads a rather cost-effective way to funnel visitors to a website.
In addition, those website visitors arrived after watching 30+ seconds of video. For videos that are 30-seconds or longer, companies are only charged if the viewer reaches the 30-second mark of the video. Board Studios concluded that this kind of traffic could potentially yield more valuable leads.
The survey yielded several interesting take-aways:
1. Cheaper, though still high-quality, videos produced better advertising results, in the sense that videos with budgets less than $5K had the lowest CPC by 15-30% compared to much more expensive videos (costing 2-3x as much). The lowest priced tier was the clear victor in both CTR and CPC, which demonstrated that a higher budget video doesn't necessarily mean greater effectiveness.
2. Whiteboards are in fact slightly more effective than motion graphics with an almost 25% higher CTR (click-through rate), a proxy indicative of viewer engagement and conversion from viewers to website traffic. Given the more than adequate sample size, the results were statistically significant, and contradict popular opinion that vibrant colors are necessary for grabbing a viewer's attention. Board Studios has long maintained that the familiarity of whiteboards (doodles or hand-drawings) effectively lower the viewers' barriers to new messaging.
3. Longer videos can be more effective. Common belief is that as online attention spans continue to shrink, so should the duration of explainer animations. However, the comparisons are often apples to oranges. An engaging explainer animation can actually have a much higher view rate if it does its job correctly. In fact, the longest videos at approximately 2.5 minutes duration had the highest view rates, engaging a higher percentage of their viewers.
The results support Board Studios' belief that well-crafted messages in engaging video animations outperform the stale slideshows of the past. The company also believes that animated video explainers are especially effective for internal corporate communications and for external presentations.
Board Studios specializes in the production of explainer animations in both the whiteboard and the motion graphics formats. In addition to creative and production services, Board Studios provides post-production marketing and promotional services.
About Board Studios:
Board Studios is a boutique production house that specializes in highly creative and engaging animations including whiteboard, motion graphics, cutouts, cartoons, typography, and infographics. Board Studios' experts use video for storytelling and messaging. To find out more about what Board Studios can do for you, visit http://boardstudios.com/