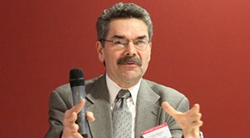 Hoboken, NJ (PRWEB) September 05, 2014
Stevens Institute of Technology congratulates Thomas H. Wakeman III, research professor in the Department of Civil, Environmental, and Ocean Engineering who will hold the position of 2015 President-Elect for two prestigious American Society of Civil Engineers (ASCE) organizations: the Coast, Oceans, Ports and Rivers Institute (COPRI) and the Academy of Coastal, Ocean, Port and Navigation Engineers (ACOPNE), which awards engineering certification in these specialty areas of civil engineering. In 2016, he will be the President of the two organizations and represent COPRI and ACOPNE at national and international events.
A Life Member of ASCE, Dr. Wakeman has extensive experience in navigation engineering, port development, maritime security, and freight transportation planning. He is the Deputy Director of the Davidson Laboratory and Program Director for the Maritime Systems Master's Program. Previously, he worked for the Port Commerce Department and Port Authority of New York and New Jersey for 14 years, the United States Army Corps of Engineers, San Francisco and Sacramento Districts, for 23 years. He has a MS in Civil Engineering from University of California, Davis, MA in Marine Biology from San Francisco State University, and a doctorate of Engineering-Science from Columbia University, New York. His publications include co-editing two books, authoring book chapters, and more than 100 technical papers.
About Stevens Institute of Technology
Stevens Institute of Technology, The Innovation University®, is a premier, private research university situated in Hoboken, N.J. overlooking the Manhattan skyline. Founded in 1870, technological innovation has been the hallmark and legacy of Stevens' education and research programs for more than 140 years. Within the university's three schools and one college, more than 6,100 undergraduate and graduate students collaborate with more than 350 faculty members in an interdisciplinary, student-centric, entrepreneurial environment to advance the frontiers of science and leverage technology to confront global challenges. Stevens is home to four national research centers of excellence, as well as joint research programs focused on critical industries such as healthcare, energy, finance, defense, maritime security, STEM education and coastal sustainability. The university is consistently ranked among the nation's elite for return on investment for students, career services programs and mid-career salaries of alumni. Stevens is in the midst of a 10-year strategic plan, The Future. Ours to Create., designed to further extend the Stevens legacy to create a forward-looking and far-reaching institution with global impact.