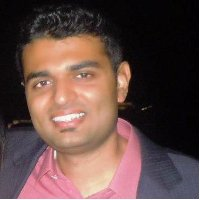 The local pro is a person - not a product - coming into someone's home. So, dialogue is important.
Washington, DC (PRWEB) April 13, 2015
TalkLocal's Head of Business Development Rajesh Karyampudi has one job: to help the biggest names in local deliver better results. Beginning his career in business analysis before joining TalkLocal where he had stints in sales, management, product strategy, customer service, development, quality assurance, user experience, and basically every aspect of building a local services enterprise, Rajesh understands more than most what lies ahead for companies entering the home services space - from startups like TalkLocal to global enterprises like Amazon.
"Amazon is a great company, great brand, and has a great following. So, if they come up with effective solutions to the new problems they will surely face in this industry, they have a great shot at making waves. Scalability, matching, trust and user experience are some of the barriers that Amazon will need to overcome in its efforts to become a one-stop shop for local services", Rajesh explained, adding that he has personally been an Amazon Prime member since 2010.
To Overcome Scalability Challenges: Go Beyond The Members Only Network
To Rajesh, scalability is the primary challenge plaguing home services platforms both new and old. He argues that such brands have to saturate "niche markets within niche markets in a two-sided marketplace", referring to the location and service category of a specific market (ie. Plumbers near 17312) in an industry with users on two sides. After all, as he explained, inadequate consumer use will cause disappointment among local businesses who aren't receiving the quantity and quality of leads for which they had hoped. On the other hand, an inadequate local business network in any given service category disappoints customers who can't find pros in their area. Rajesh believes that the latter is more likely the case for Amazon's wildly popular site. TalkLocal manages the scalability dilemma through a unique algorithm which aggregates business information from across the web in real time to match the right local pro for a consumer, even if local businesses are not in its Paid Local Network. Amazon too can employ a similar strategy, enabling it to scale to meet the needs of its large consumer base, launching the grantees and pre-qualified member network on a rolling basis as each city one the local paid business network reached capacity, Rajesh explained.
To Overcome The Matching Challenge: Send Job Leads To The Right Company The First Time
Compounding the scalability challenge and potentially increasing user disappointment, according to Rajesh, is the difficulty in matching the specific service needs, schedule, and location of each customer. "The select local pros in the network for any given service category may enjoy plenty of job opportunities with Amazon, but once popular time slots fill up, many Amazon customers will face disappointment," Rajesh explained.
Rajesh added that TalkLocal's algorithm addresses this problem by matching consumers to businesses based on location, schedule, job type, and even quality indicators like call analytics, consumer reviews, and social media interactions. "Of course, Amazon has incredible big data capacity. So, if it leverages its abilities to learn as much about its business clients as it already knows about its customer base, it could potentially eliminate the bad matches and unqualified leads plaguing the industry", Rajesh argued.
To Overcome The Trust Challenge: Let people connect in a more personal way
An article published on March 30th 2015 in The Verge covering the launch of Amazon Home Services included a quote by Amazon Marketplace VP Peter Faricy in which he described how difficult it is to know which local pro to trust. Rajesh disagrees, countering that his remarks are only partially correct. "Half of the local services solutions out there are putting the cart before the horse on this one," Rajesh remarked, adding that "the best pros get lots of calls, get booked up, or get choosy about which jobs they'll take; and, consumers get turned away and sent back to the drawing board. So, being trustworthy is nothing if the pro can't do the job or answer the phone". In fact, Rajesh thinks that the sheer exhaustion brought on by finding a pro who matches basic criteria, like availability, causes customers to settle for the first pro they get rather than vet them for quality.
"Besides", Rajesh added, "there's more to trust than just vetting or reviews."
Rajesh made the observation that some retail customers avoid online shopping, preferring more personal shopping experiences; and, in the home services industry, that kind of customer is the rule rather than the exception. A BIA/Kelsey survey released on April 9, 2014 found that 66% of businesses see phone calls as the most valuable lead type and argued that the number of call based leads are growing due to consumers' use of smartphones. So, according to Rajesh, Amazon should give businesses a talk based connection option such as Google's G-Chat or Skype.
"The local pro is a person - not a product - coming into someone's home. So, dialogue is important," Rajesh explained, adding that TalkLocal delivers phone-based connections to the best matching pros in minutes.
TalkLocal raised $4 million in venture funding, has served in 49 states and recently marked its one millionth service request call. It offers 50 service categories like roofing, accountants and heating & cooling. Download the app for free on iPhone and Android. Connect on Facebook, Twitter