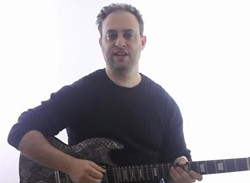 Double stops are basically playing two notes at the same time
(PRWEB) September 03, 2014
"Double stops are basically playing two notes at the same time," says Johnson, "A chord has at least three notes, but when you only have two notes it's a partial chord or a double stop." Claude demonstrates using double stops in a rhythmic sense by playing the riff from Smoke on the Water and plays a lick to demonstrate them in a lead. Claude continues by demonstrating some ideas out of the minor pentatonic scale where you can add double stops to make it more interesting. "The trick is to take the note from the scale that you want to make into a double stop and have it be the higher note and simply add a lower note to it," says Johnson. Claude plays a sequence from A minor pentatonic and uses notes on the same fret, but on the next lower string to make the double stop which creates a harmony in the interval of a perfect fourth. Claude continues by playing several other ideas of using double stops in the scale so you can easily follow along. More info can be found at GuitarControl.com.
The Pentatonic Scale is a musical scale with five notes per octave. They can be found all over the world and are the main scale used in the Blues genre.
Double Stops is the technique of playing two strings at the same time, usually done using the hybrid picking technique.
Claude Johnson
Claude Johnson, a native of Philadelphia PA, began playing guitar in 1990 after being inspired by players like Jimi Hendrix, Eric Clapton, and Stevie Ray Vaughn. He is the creator of GuitarControl.com and has helped 1000's of people to learn to play the guitar with his critically acclaimed instructional DVD courses, all available at GuitarControl.com
About GuitarControl.com
GuitarControl.com is the leader in modern guitar instruction. It's packed with recourses including articles, video lessons, and the best videos in the business for the beginner to the advanced guitar student taught by the best instructors out there. Weather you are into the blues, rock, jazz, metal, folk, or anything in between, they have you covered.