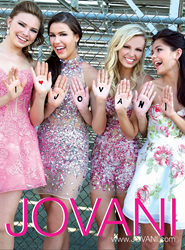 "We're seeing the trends move away from poofy, cupcake-style dresses to a more sophisticated, elegant look, and that's what our customers love about Jovani."
New York, New York (PRWEB) September 10, 2014
School is back in session! With students returning to their desks from a fun-filled summer, Jovani Fashions has once again proved why they are the go-to designer dress destination for high school students. After a record breaking prom season, the New York-based fashion house launched their newest collection of homecoming dresses for fall 2014, and isn't just featured in some of the top teen magazines to include Teen Vogue and Seventeen's iconic back-to-school issues, but is already flying off the racks at top boutiques around the country.
While the majority of the student body prepares for the new school year with hot new back-to-school fashion, Jovani's authorized retailers are gearing up for the upcoming influx of high school students who will make their way to stores selling Jovani's newest party dresses.
Jovani's largest retailer in the midwest, Henri's Cloud Nine, has already seen a spike in this year's homecoming sales, with young girls requesting Jovani by name early in the summer.
"Lace and sparkle are always very popular, but we're seeing a lot of customers stepping out of the box and trying on unique prints and fabrics," said Henri's marketing director, Lisa Barefield. "We're seeing the trends move away from poofy, cupcake-style dresses to a more sophisticated, elegant look, and that's what our customers love about Jovani."
Featuring a range of cocktail dresses and two-piece outfits, the homecoming line is the perfect mix of fun and sophisticated styles for Fall 2014. The collection highlights trends such as lazercuts, fit and flare styles, open backs, lace and just the right amount of beading that Jovani is known for. Just as the rest of Jovani's dress selection fits a wide variety of styles and tastes, there is a homecoming dress for each and every high school girl no matter her style.
The homecoming collection itself makes a bold statement with all the bright hues and unique prints. The line showcases a sweet sensibility that is perfect for the teen market, while also staying true to the glamour and elegance that Jovani is known for.
"From young and fun to sleek and sexy, Jovani's new fall collection has something for every girl going to homecoming this year," said Barefield.
For those girls who are ready to see the amazing Jovani collection up close and personal, find the nearest retailer with Jovani Homecoming dresses in stock using the "Where to Buy" store locator on Jovani.com.