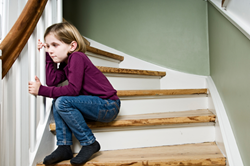 "Divorce is a life moment that's likely going to be devastating to a child. It can feel like a death to them," says Connatser Family Law Attorney Christine Powers Leatherberry.
Dallas, TX (PRWEB) September 03, 2014
Aubrey Connatser, Managing Member Connatser Family Law, posted Children of Divorce at Higher Risk for Suicide: 7 Vital Tips for Parents blog on the Connatser Family Law website.
In the blog, a recent study published by the American Psychological Association reveals adult children of divorce are 14 percent more likely to attempt suicide than those who grew up in intact homes.
While researchers encourage health care practitioners to target this group for prevention and treatment, divorcing parents should be proactive, set aside their differences and place the utmost priority on their kids' well-being.
The following tips to help minimize the pain of divorce for your children are outlined in the blog:
1. Always Take the High Road. While the children's needs should be the top priority, how a parent behaves pertaining to child custody and visitation can also be a factor in how a judge rules in their divorce. For example, disparaging the other parent in front of the children is not considered healthy parenting.
2. Ask your custody and/or divorce attorney to recommend a counselor. Experienced family law attorneys work with counselors on a regular basis and they will know several reputable counselors they can recommend for both kids and parents.
3. Seek advice on how to tell the kids about the divorce. An experienced family counselor can tell you how best to prepare kids for the uncertainty of divorce, help them feel secure and ensure that they do not feel that they are in any way responsible.
4. Schedule time for kids to meet with a counselor. After you tell your children about the divorce, it can be very helpful for them to meet with a counselor for an assessment to find out how they are coping.
5. Remember that your kids won't be this age forever. Your relationship with your child and your child's relationship with the other parent should evolve in a healthy manner over the long-term.
6. Communicate frequently with people at your child's school. By keeping the lines of communication with the school open and alerting them to the fact that a divorce is on the horizon, school officials should be better prepared to spot any changes in behavior or warning signs early on.
7. Tell children it's OK to talk about how they feel. Let a reputable family counselor be your guide.
To learn more, read Children of Divorce at Higher Risk for Suicide: 7 Vital Tips for Parents blog on the Connatser Family Law website.