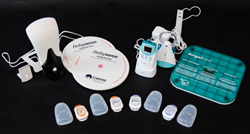 Whether at home or on the go, parents can rest a little easier by using a movement monitor.
Cheyenne, Wyoming (PRWEB) September 05, 2014
Leading baby product review site, BabyGearLab.com, has published the results of their 2014 awards for best movement monitor. Editors put six of the leading products through a series of real-use tests to rate and compare each across a set of performance metrics. The monitors were graded on a set of criteria including: reliability, ease of use and portability.
Here is an overview of the award winning products:
Winner of the Editors' Choice Award, the Angelcare AC401 exceeded expectations. "This unit scored well overall and is the monitor our editors recommend for most situations," says pediatrician, Dr. Juliet Spurrier. "It was the most reliable unit we tested, and in addition to movement, also allows the parent to monitor both sound and room temperature. That's a winning combination in our opinion."
Top Pick for simplicity and ease of use went to the Babysense 5s. "Operation of this unit couldn't be simpler, which is key for a sleep-deprived new parent," notes Dr. Spurrier. "Combine that with a high dose of reliability and you have a tool that will greatly compliment both parent and baby's sleep environment."
The Best Value award winner was the Levana Oma. "This is a small, portable unit that a baby actually wears," says Spurrier. "The price is right, and for travel with a baby, the convenience of this movement detecting monitor is unmatched."
BabyGearLab.com has also published an article entitled How To Choose the Best Movement Monitor that will further assist parents on their quest for the perfect nighttime set up. This article will help new parents to ask the important, critical questions they might not have otherwise known to ask, especially concerning health, safety, and reliability.
As always, BabyGearLab's Editors strive to analyze every aspect of the products being tested with an eye toward real-world practicality, and the health and safety of babies. With the sleep-health concerns related to this category, it was specially assigned to an editor who is also a trained paramedic, and whose wife is a registered nurse. The monitors were used day-to-day and compared right along side each other in order to sort out which ones could be trusted to bring real peace-of-mind to a new parent. Over a series of months, actual performance was noted in-home, on the road and in different sleep environments including both regular cribs and travel cribs if applicable.
About BabyGearLab LLC
With a keen eye for child health and safety herself, BabyGearLab founder and board-certified pediatrician, Dr. Juliet Spurrier, aims to produce the most comprehensive baby product reviews available today. After her own frustrating experience as an expecting mother, her desire to de-mystify the often overwhelming job of choosing the right baby gear has helped millions of parents across the globe. To find out more about this Mom-In-Chief and her mission, visit the about page on BabyGearLab.com.