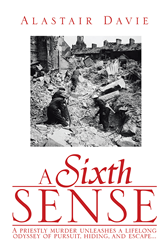 Francis must make amends to these lost friends.
CHICAGO (PRWEB) September 08, 2014
"In each of us, two natures are at war – the good and the evil. All our lives the fight goes on between them, and one of them must conquer," Robert Louis Stevenson wrote in "Strange Case of Dr. Jekyll and Mr. Hyde."
Alastair Davie's new book, "A Sixth Sense," takes a look at split personalities and the consequences one person faces in a personal battle of good and evil. Protagonist, Francis Reagan inherited a hidden evil personality from his father. His actions confine him to a life on the run from the crimes that entrap him and the haunting ghosts of his past.
"Because of his actions, many of his friends had died," Davie said. "Francis must make amends to these lost friends."
Set in 1930's Europe, Davie incorporates European history from the Spanish Civil War to WWII as Francis' mistakes are made and journey to peace begins. Davie's passion for history is seen throughout Francis' thrilling adventure.
Francis struggles between his Jekyll and Hyde personalities. Which personality will conquer him in the end?
"A Sixth Sense"
By Alastair Davie
ISBN: 9781493174980
Softcover, $17.80
Hardcover, $26.99
e-book, $3.99
Available on Amazon, Barnes & Noble and Xlibris
About the author
Alastair Davie retired in 2002 as a director of corporate communications for Foster Wheeler Corporation, a Fortune 500 company. He was born and educated in the United Kingdom. With a degree from the Institute of Marketing's College of Marketing, Davie held positions at the Financial Times and Reuters before moving to the United States and pursuing a 25-year career in public relations, marketing communications and investor relations services.