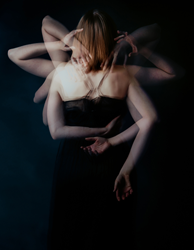 Through the generous contributions of Ed and Kaylene Hallberg, We're able to award a $500 "no strings attached" grant to four students each semester.
Rocklin, CA (PRWEB) September 04, 2014
Sierra College students who attend the Rocklin campus are being treated to a high caliber visual experience in the student lounge where they relax and restore for their next class. Through the generous donation from the Hallberg Family, a scholarship fund has been established to promote the arts, "The Hallberg Merit Award Scholarships". An art exhibit is located in the Rocklin Campus Center (Cafeteria, Building J) which annually features Sierra College students who have won scholarships for their excellence and dedication to their chosen mediums. This student center gallery space allows visitors to discover and view the talent and discipline of their fellow students.
This year's recipients of the Hallberg awards are:

Dawn Blanchfield: Artist Dawn Blanchfield lives in Lincoln, California with her husband and two children. Blanchfield studied painting under noted abstract impressionist Gerd Koch and photography with Bill Hendricks of Ventura, CA. After moving to northern California, she continued her education with workshops and classes in a variety of mediums, including encaustics and a full range of printmaking techniques. She is currently enrolled at Sierra College, studying art and photography with a focus on Alternative Processes. Her work has been shown in group, juried and solo exhibits. Most recently, Crocker Art Museum chose two of her pieces for their prestigious Art Auction and BNSA Auction. Blanchfield has photographs in Lincoln Public Library's permanent collection, prints in the Sierra College Printmaking Collection as well as works in private collections in California and New York.
Mollie Murbach: Hallberg recipient Mollie Murbach studies photography and studio art at Sierra College. Work from her surrealistic photo series "Dreams: In the Space Between" earned an Award of Excellence in Photography at the 17th Annual Sierra College Juried Student Show and was featured in the Student Show at Viewpoint Gallery in Midtown. Her work can also be seen in the exhibit Dreams: Illusion and Fantasy at Blackbox Gallery in Portland, OR. Ms. Murbach is a graduate of Whitney High School in Rocklin.
Daryl Stinchfield: Daryl became an avid photographer at the age of nine. He was processing film and printing enlargements before entering high school. He acquired a photojournalist's style during and after high school for school and local community publications.
Following a life-long career as a trainman on the Southern Pacific and Union Pacific railroads, he enrolled at Sierra College where he rediscovered his passion for photography. He has experienced almost every photo course the school offers, and was a past student of the year for the department; he graduated with honors and several certificates.
Daryl has exhibited at the Placer County, Gold Country and California State fairs, Sacramento Fine Arts Center, Blue Line Gallery in Roseville, Viewpoint Gallery in Sacramento, and the Ridley and Stare-Well galleries at Sierra College. He is currently employed as a contract photographer at Sierra College. Many of his images can be seen on the pages of the Sierra College website
Craig Telles: Craig Telles is a 51 year old student of art, transplanted from the east coast just in time for the earthquake of 1989. He received a B.A. from Clark University in Worcester, MA in 1984, and has since had fulfilling careers in computer science, boatbuilding, furniture-making and, now, ceramics. He lives in the Sierra foothills with his wife and two teenaged sons.
The exhibit is open and available for viewing from 7am to 10pm, Monday through Friday through the fall semester. Sierra College is located at 5000 Rocklin Road, Rocklin. Parking permits are required Monday through Friday and may be purchased for $3 at machines throughout the parking lot. For more information contact Casey O'Connor at (916) 660-8075 or coconnor(at)sierracollege.edu , or Tim Haenny at (916) 660-7381 or thaenny(at)sierracollege.edu . The event is sponsored by: The Associated Students of Sierra College and the Art Department.
Sierra College serves 3200 square miles of Northern CA with campuses in Roseville, Rocklin, Grass Valley, and Truckee. With approximately 125 degree and certificate programs, Sierra College is ranked first in Northern California (Sacramento north) for transfers to four year Universities, offers career/technical training, and classes for upgrading job skills. Sierra graduates can be found in businesses and industries throughout the region. More information at http://www.sierracollege.edu