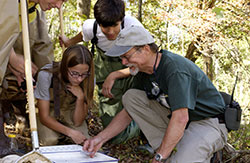 Jackson, MS (PRWEB) September 09, 2014
Forestry Suppliers Inc., a leading authorized reseller of Motorola two-way radios, released a statement today on the importance of technology for outdoor classroom activities to propel science education.
Much of the discussion in support of educational technology in school classrooms throughout the United States has been focused around adding smart boards, computers, and learning tablets to create a personalized learning experience, as referenced in The Economist's recent article "Taking the learning tablets." Forestry Suppliers believes that while these initiatives are tools to increase student learning, schools should also investigate additional technology to enable more outdoor learning experiences. One technology that is easy to use for all ages is two-way radio communication, such as the Motorola CLS Series radios.
As Earth Science Week approaches from October 12-18, educators have time to prepare outdoor science activities. Environmental learning opportunities, such as these resources from Richard Louv, author of The Nature Principle and Last Child in the Woods, include outdoor situations where two-way radios can both increase students' learning capabilities as well as provide greater safety and emergency communication capabilities should an emergency arise. In addition, the 8-channel UHF and VHF Motorola two-way radios feature one channel programmed to National Oceanic and Atmospheric Administration (NOAA) weather alerts.
By using two-way radio communication, students can apply what they learn in the classroom to real-life applications such as identifying trees, rocks, and minerals; testing soil and water; etc. The radios ease communication between teams, and makes it easier to contact the educator so that he or she can answer more questions without necessarily having to be at each location.
Forestry Suppliers is an advocate for encouraging science educators to move students beyond textbooks and into the field to experience the phenomenon of earth science. In association with theirEducation Excellence sponsors and partners, Forestry Suppliers publishes a free quarterly Science Scene e-zine app for iPad, Android, and Kindle, as well as a monthly newsletter with ideas and inspiration to help educators discover methods to create an atmosphere of hands-on learning.
Forestry Suppliers is a Motorola authorized business two-way radio reseller offering RM Series, RDX Series, and CLS Series business radios and has carried Motorola products for more than 30 years. For more information on their selection of radios, contact their Technical Specialists at 800-430-5566 or visit them online.
About Forestry Suppliers:
Forestry Suppliers, Inc. is a worldwide supplier and distributor of general-use and specialty products and equipment for natural resource professionals. Their annual catalog and website contain a complete selection for a wide range of outdoor industries, including forestry, agriculture, arboriculture, landscaping, horticulture, grounds maintenance, surveying, engineering, remote sensing, vegetation management, construction, home inspection, utilities, wild land firefighting, geology and mining, archaeology, anthropology, parks and recreation, golf courses, wildlife management, fisheries and aquaculture, earth science education, environmental engineering, hazmat, and remediation.
Founded in 1949 by Jim Craig, former Mississippi State Forester, Forestry Suppliers, Inc. maintains a distribution warehouse and administrative headquarters in Jackson, Mississippi. For more information about Forestry Suppliers, visit them online at http://www.forestry-suppliers.com.
MOTOROLA, MOTO, MOTOROLA SOLUTIONS and the Stylized M logo are trademarks of Motorola Trademark Holdings, LLC and are used under license. All other trademarks are the property of their respective owners. © 2014 Motorola Solutions, Inc. All rights reserved.