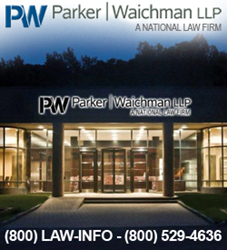 Port Washington, New York (PRWEB) September 03, 2014
Parker Waichman LLP, a national personal injury law firm that has spent many years fighting to ensure that the heroes of 9/11 are never forgotten, comments on new research by the National Bureau of Economic Research (NBER) showing that exposure to toxic dust caused by the attacks increased the risk of pregnancy complications. The study, which has not been peer-reviewed, was released in August by Janet Currie and Hannes Schwandt of Princeton University. "We show that residence in the affected area increased prematurity, low birth weight, and admission to the NICU after birth, especially for boys," the authors state in a summary of their paper.
According to a Time article published on August 13, 2014, the enormous dust cloud resulting from the 9/11 terrorist attacks contained asbestos, cement, gypsum, glass fibers, lead, and other metals; the cloud created a highly toxic environmental health hazard. Studies show that the dust caused medical problems such as asthma and cancer in a number of rescue workers, the article states.
The toxic dust resulting from the terrorist attacks on September 11, 2001 has caused many serious illnesses in first responders and nearby residents, Parker Waichman notes. "This working study further shows that exposure to the 9/11 dust cloud caused serious health issues," said Gary Falkowitz, Managing Attorney at Parker Waichman LLP. "Our firm continues to fight for the rights of 9/11 heroes and their families."
The authors wrote that "These findings provide the first consistent evidence that the 9/11 dust cloud had detrimental impacts on pregnancy outcomes," Time reports. "Residence in the affected area increased prematurity, low birth weight, and admission to the NICU (neonatal intensive care unit) after birth, especially for boys." (http://time.com/3108280/911-dust-cloud-pregnancy.
Also according to the Time article, the study showed that the risk of premature delivery was doubled in mothers who were in their first trimester during 9/11. Birth complications were more likely to occur in boys rather than girls. Additionally, there was a rise in low birth weight of about 5 percentage points among boys and an increase of 7.6 percentage points in the risk of male babies being admitted to the NICU. The study found that exposure to the dust during pregnancy increased the risk of premature birth by 7.75 percent in girls and 8.16 percent in boys.
The study also indicates that the toxic dust cloud had the greatest impact on the following neighborhoods: Lower Manhattan, Battery Park City, SoHo, TriBeCa, Civic Center, Little Italy, Chinatown and the Lower East Side.
Parker Waichman LLP, which worked alongside Ground Zero first responders and their advocates to ensure passage of the Zadroga Act, vows to continue its efforts to ensure these heroes receive all of the Zadroga Act compensation they need and deserve.
If you or a loved one are eligible for compensation under the Zadroga Act, and would like assistance with your claim, please visit Parker Waichman's Zadroga Act claims page at yourlawyer.com or call 1-800-LAW-INFO (1-800-529-4636).