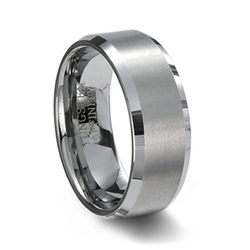 Nashville, TN (PRWEB) September 25, 2014
It's a win-win situation: Buying a top-quality, Tungsten carbide or ceramic ring is an investment that pays for itself many times over in the form of head-turning style and superior construction. Best of all, since the rings are literally up to one-tenth of the price of their silver, gold or platinum counterparts, almost everyone can afford to own several different styled and colored rings.
Today, Tungsten Affinity, the leading tungsten carbide and ceramic rings online retailer, is rolling out its new line of high-end, low-priced rings. Boasting the same exceptional craftsmanship of its other ring offerings, the new, four-fold line offers fresh, exciting new styles for both men and women.
"We noticed that our most popular sellers are rings that help our clients inject a little more of their personalities into their daily lives. Whether it's a wedding ring with an unusual design, an unexpected pop of color across a dark-colored, everyday band, or a way to show their support for a good cause, our clients prefer rings that feature a little something out of the ordinary," according to a company spokesman. "Our design team kept that fact in mind when they designed the new pink carbon fiber, gold-plated wedding bands, white tungsten, and scratch-proof black ceramics lines. In all actuality, we took each sub-line and asked ourselves what we could infuse into it to make each one the best that money can buy."
Fighting the Good Fight – Tungsten Carbide and Ceramic Pink Carbon Fiber Inlay Rings
Tungsten Affinity is proud to be included in the global fight against breast cancer. The company donates 10 percent of each new pink carbon fiber inlay ring sale to breast cancer research and prevention. Its new, pink carbon fiber inlay tungsten carbide and ceramic rings come in four different styles.
The black ceramic and pink carbon inlay ring is sleek and sophisticated, sporting ultra-shiny, polished beveled edges. It is also available in tungsten carbide, with the pink carbon fiber inlay superbly set off by its silver-tone beveled edges. Outdoors lovers will appreciate the camouflage pink inlay tungsten carbide ring, or the darker, more mysterious option of the black ceramic ring with pink camouflage inlay.
Best of Both Worlds – Gold-Plated Men's Wedding Bands
Gold-plated wedding bands look like gold bands, but possess the rough-and-tumble durability that only tungsten carbide can bring to a ring. Tungsten Affinity's new line includes a gold-plated, brushed finish tungsten carbide wedding ring with beveled edge. The unusual, highly sophisticated-looking ring presents a bedazzling contrast between its shiny, diagonal edges and its satin/brushed finish center.
Lord of the Rings trilogy fans will instantaneously love Tungsten Affinity's 'One Ring' replica that utilizes precision laser engraving to feature the glittering, "One ring to rule them all" external inscription and the "One ring to bring them all and in the darkness bind them," internal inscription.
Another noteworthy piece from this collection is the gold-plated, pipe-cut tungsten carbide cross ring. This magnificently designed ring features laser infused golden crosses along its brushed center.
Ivory Studded Visions – White Tungsten Carbide Rings
Tungsten Affinity elevated its white tungsten carbide ring offerings with new styles that feature diagonal grooves, brushed and polished contrasts and CZ inlays. Arguably the most beautiful of them all, the hammer-finish white tungsten carbide ring features a rugged, pummeled design that catches and reflects light with every flick of the finger.
Ebony Enchantment – Scratch-proof Black Ceramic Rings
For those who adore the smooth, sleek look of black ceramic, these scratch-proof rings are the crème de la crème of available offerings. Industrial-loving ring aficionados will appreciate the intersecting grooves, black carbon filler inlays, pipe cut, and beveled edge styles. Minimalists will go for the polished black dome bands and cubic zirconia-dotted selections. The collection also includes multi-colored camouflage inlays, Celtic tribal designs, and brushed and polished centers.
Each ring comes with a no questions asked, 45-day return and exchange policy that ensures consumers are satisfied with their purchases. Each tungsten carbide and ceramic ring is also backed by Tungsten Affinity's Limited Lifetime Warranty that provides customers with a new ring in the event that their ring is damaged. The company also provides custom engraving for a small additional fee.
Tungsten Affinity invites all new and returning customers to visit its online store at http://www.TungstenAffinity.com to browse its new high-end, low-priced line.
Contact Us
Tungsten Affinity
877-460-7464