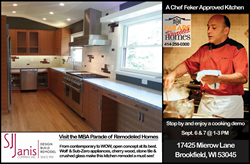 Wauwatosa, WI (PRWEB) September 03, 2014
The S.J. Janis Company, a business of certified home remodelers, is participating in the 2014 Metropolitan Builders Association's 2014 Parade of Remodeled Homes on September 6th and 7th from noon to 4PM. Featured this year is a mid-century modern Brookfield home with a kitchen, dining room, living room and mudroom all recently remodeled as an open concept design. The renovations, modern accents, and cantilevered light shelves highlight this home's linear lines throughout the updated spaces. In addition, a custom designed Chef Feker approved kitchen will have a cooking demonstration from 1PM to 3PM each day at 17425 Mierow Lane, Brookfield, WI 53045.
The homeowners approached S.J. Janis with very specific needs and requests for their family's home. Nathan Wachtl, CR, UDCP, S.J. Janis senior design consultant, said, "The owners were happy with their home's location and square footage, but the challenges of adapting space for entertainment versus family function required an innovative design solution. An elegantly modern aesthetic is now apparent as you enter the home."
The homeowner's architecture background allowed for a great collaboration with S.J. Janis during the project's design phase. The design of the remodeled space did have its challenges when addressing the homeowner's requests. "With the removal of a load bearing wall and a repurposed flow into a connecting mudroom, all public space now develops a cohesive design with contrasting woodwork. Strong linearity and a full height custom tile backsplash compliment the modern style of the home," said Joe Klein, UDCP, CKBR, S.J. Janis Company director of design.
Horizontal-grained quartersawn cherry cabinetry introduce an abundance of storage with an integrated homework station and organization center. A fireplace facelift and open basement staircase with nickel balusters completes the design vision.
To demonstrate the use of the kitchen remodel, Chef Michael Feker will be cooking items for attendees to taste on the new 48" Wolf range with griddle. A large 42" stainless Sub-Zero refrigerator will also be used during the demonstration. Chef Feker's expertise in cooking allows for a unique perspective in kitchen design. He will be speaking about how to design your kitchen around the types of food your family enjoys. Converting your old kitchen into a personalized cooking domain provides for great food and a happy family. "I am all about enhancing the great things that happen around food. We also have to remember that great food is made in home kitchens. So my involvement in showcasing remodeled homes and kitchens is soul feeding. I love kitchen design as much as I love using the kitchen. Come and taste my passion for food at 17425 Mierow Lane, Brookfield, WI 53045. Mention this article for free admittance," said Feker.
S.J. Janis Company, an award-winning remodeler with four Certified Professionals on staff, is a member of several home improvement associations, including the Milwaukee/NARI Home Improvement Council, National Kitchen & Bath Association, and the Metropolitan Builders Association.
In addition, the company is a member of GuildQuality, an independent third-party company that interviews every client about his or her remodeling experience throughout the building process and provides immediate results to the Guild member. S.J. Janis is recognized as a "Guildmaster with the Highest Distinction" by the organization and is Milwaukee's highest rated Remodeler by Guild Quality for Customer Service.
For the 25th consecutive year, the S.J. Janis Company was a recipient of Wisconsin Remodeler of the Year Awards from the Milwaukee/NARI Home Improvement Council, the only company to be recognized in each year of the award competition. Awards garnered in the 2013 competition were a gold award in the Universal Design category, and silver awards in the Residential Addition Under $60,000 and Residential Kitchen $80,000 - $120,000 categories.
For more information, call the certified home remodelers, S. J. Janis Company, at 414-259-0300 or visit http://www.sjjanis.com.