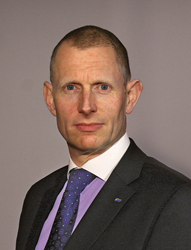 The commonality among the technologies and guidelines that affect all areas of mobility are technical standards. Standards are fundamental because without them, inter-operability would come to a halt." Andrew Smart, SAE International
Detroit, MI (PRWEB) September 05, 2014
Andrew Smart, Director of Society Programs and Industry Relations for SAE International, will participate in the "Government and Policy" Chief Technology Officer Summit during the Intelligent Transport Systems (ITS) World Congress on Wednesday, Sept. 10, from 1:30-3 p.m. in Room 142A in COBO Hall, Detroit.
Mr. Smart will join five other panel members who will discuss policies surrounding new transportation technologies, including policies, guidelines and mandates needed for industry success; issues related to liability and driver responsibility; how harmonization between OEMs and suppliers can be achieved; and how cybersecurity is best addressed to protect safety critical systems.
"The commonality among the technologies and guidelines that affect all areas of mobility are technical standards. Standards are fundamental because without them inter-operability would come to a halt," Mr. Smart said.
During the panel discussion, Mr. Smart will refer to a comprehensive study being created by SAE International. The study, "Connectivity: The Big Picture," will explore many facets of connectivity, including inter-linked technologies across all industries and autonomy across all mobility.
Mr. Smart will present the full report during a special session at SAE 2014 Convergence, Monday, Oct. 20, at 5 p.m. in the Marriott Hotel.
SAE International is a global association committed to being the ultimate knowledge source for the engineering profession. By uniting more than 145,000 engineers and technical experts, we drive knowledge and expertise across a broad spectrum of industries. We act on two priorities: encouraging a lifetime of learning for mobility engineering professionals and setting the standards for industry engineering. We strive for a better world through the work of our philanthropic SAE Foundation, including programs like A World in Motion® and the Collegiate Design Series™.