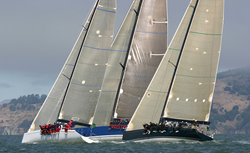 Annapolis, Maryland (PRWEB) September 08, 2014
Every October, sailors from around the globe gather on miles of docks in the historic seaport of Annapolis, Maryland for the United States Sailboat Show. The upcoming 45th internationally acclaimed sailboat show will open October 9th and run through October 13th and is the largest and oldest in-water sailboat show in the world.
Premiering Boats – The most exciting new sailboats from major manufacturers, including many new designs and models, will make their debut at the United States Sailboat Show.
Exciting High Performance, Racing Section – A new section of the show this year will feature a sexy, high performance racing section.
Sailboat Manufacturers – This is the only show in which virtually every major sailboat manufacturer is represented.
Catamarans - It is the largest collection of multihulls and catamarans anywhere in the world; miles of docks are constructed to display everything from brand new cruising sailboats to kayaks, paddleboards, and canoes.
Acres of On-Land Exhibitors – The sailboat show has the latest in navigational equipment and a wide selection of marine equipment, high-tech electronics, boating accessories, rigging, clothing & gear. There are related services such as sailing lessons, rentals, insurance firms, and lending institutions.
New This Year – Introducing Brokerage Cove
For the first time in 45 years, the Annapolis Sailboat Show will display previously owned sailboats in St. Mary's Cove.
The granddaddy of all sailboat shows, the United States Sailboat Show is expanding its already impressive selection of new and premiering sailboats to include Brokerage Cove. This show within a show will be overflowing with used boats in a floating marina presented by regional boat brokers and available for immediate sale. Admission provides entry into both the United States Sailboat Show and Brokerage Cove.
Preview Day: October 9, 2014 – This is an extra special day for the serious sailor who will take advantage of a day ideal for talking with exhibitors and touring sailboats.
Premier Launch Party – Boat show goers will celebrate opening night and kickoff the United States Sailboat Show with a star-studded cast from the sailing industry during an evening filled with island music, delicious food, cocktails, and fun.
Special guest speaker Ken Read is considered one of the world's most accomplished and celebrated sailors.
There will be a presentation of the first annual Sailing Industry Distinguished Service Award, co-sponsored by Sail America. Separate ticket required.
Vacation Basin is dedicated to chartering, travel, vacations and charter boat ownership in the Chesapeake Bay and exotic island locations.
Take The Wheel: Interactive Workshop & Boat Demo – Perfect for the sailor searching for a special sailboat, this innovative workshop includes an afternoon of sailing to evaluate a wide range of boat styles.
Free Seminars on Sailing – There are daily programs presented by the Chesapeake Bay Magazine, Annapolis School of Seamanship and Cruising World Magazine.
Grand Prize Drawing includes a one week chartered vacation in the British Virgin Islands: 7 day, 6 night charter and airfare for two, donated by The Moorings and the British Virgin Tourism Board.
Hendrick's Gin Tasting Barge
Vacation Basin Tasting Area Sponsored by Nobilo Wines & Rum Chata
Why Should You Attend a Boat Show?
Sailors have the unique opportunity to board and inspect most new models on the market, make side-by-side comparisons, and talk to industry representatives about all aspects of buying and owning a boat.
Show Information
October 9 – VIP Preview Day
10:00am - 6:00pm
October 10 - 12
10:00am - 6:30pm
October 13, 2014
10:00am - 5:00pm
VIP Preview Day – $35
VIP Preview plus additional day – $48
General Admission – $18
Children $5 (6 and under free)
Two-Day General Admission Ticket – $31
Parking
To accommodate attendees, parking is available at the Navy-Marine Corps Memorial Stadium, conveniently located in Annapolis, Maryland. Free buses shuttle attendees from the Stadium to the Annapolis Boat Show downtown at the City Dock. Buses run continuously from 9am until one hour after the show closes. Stadium Parking: $10.00
Directions to the Stadium: Take Route 50 to Annapolis/Rowe Blvd (exit 24). Follow signs along Rowe Blvd. to the Navy-Marine Corps Memorial Stadium. GPS Address: 1040 Cedar Park Road, Annapolis, MD 21401
Parking on Saturday, October 11, 2014: Take Route 50 to Annapolis/Rowe Blvd (exit 24). Follow signs for Boat Show Parking.
Parking is also available at Eastport Elementary School – a short walk from Eastport to downtown historic Annapolis.
Annapolis Boat Shows, a premier event management company, has produced grand in-water boat shows since 1970. Today, more than 130,000 attendees from around the world come to the Chesapeake Bay region to experience these nautical extravaganzas.
#