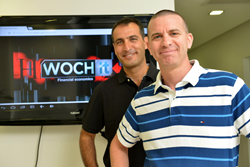 "This proves the diversity and creativity our video creation platform provides agencies and brands"
NEW YORK, NY (PRWEB) September 03, 2014
Wochit, the revolutionary branded video content creation platform, announced today that it has been selected by Mindshare North America, a WPP company, to be an Action Partner of THE LOOP, Mindshare's Adaptive Marketing system, to create content in conjunction with Mindshare Entertainment.
Action Partners help drive real-time messaging, curation and distribution for THE LOOP, Mindshare's Adaptive Marketing system. Applied in real-time, brands are fused into culturally dominant moments that are most relevant to their audiences.
Wochit was selected as an Action Partner based on the platform's ability to empower agencies to create branded video content in real-time and at scale. Wochit, creating content in conjunction with Mindshare Entertainment, allows Mindshare North America to leverage the unique data insights and trending stories LOOP uncovers for marketers by making it easy to create associate, broadcast quality video content within ten minutes that can be distributed through client channels to drive higher levels of audience engagement.
"We are honored to have been selected as an Action Partner in Mindshare's THE LOOP Program," says Dror Ginzberg, CEO of Wochit. "This proves the diversity and creativity our video creation platform provides agencies and brands. We are committed to helping marketers create branded video content in an agile manner to engage with audiences' insatiable demand for more video content."
Wochit fulfilled the requirements of an Action Partner, which include:
· Adaptability—Wochit's vision aligns with and demonstrates in its offerings and products the principals of Mindshare's Adaptive Marketing philosophy.
· Best-of-Best—Wochit consistently demonstrates industry best practices and best-in-class offerings in its category
· Mindshare Tenets—Wochit aligns with the Agency tenets to place data at the center to drive success, move at the speed of culture, and whose offering gives Mindshare client brands cultural meaning and relevance.
"Video is the most persuasive online advertising format, and Wochit's platform empowers Mindshare Entertainment to create broadcast quality, branded video content in literally 10 minutes," says Jordan Bitterman, Chief Strategy Officer of Mindshare North America. "Their platform enables us to help clients ride the cultural zeitgeist by instantly responding to trending stories through video content, at scale in a cost effective manner. I'm extremely pleased that they are an Action Partner in THE LOOP."
Wochit demonstrated unique capabilities that can help Mindshare NA drive the real-time content, curation and distribution for clients through THE LOOP. Action Partner companies are reviewed periodically by Mindshare NA, and must demonstrate an ongoing best-in-class standard.
About Wochit
Wochit is a revolution in short form video. The cloud based video creation platform enables brands, agencies, publishers and any storyteller to instantly react to any story and economically scale branded, studio-quality video production. Whether it's breaking news, branded or promotional messaging, or a personal story, within minutes, you have a ready-to-publish video for web, social and mobile. Winner of the Gutenberg Prize as a part of the Tribeca Disruptive Innovation Awards, for its disruptive technology in the field of journalism and backed by Cedar Fund, Greycroft Partners, Marker LLC and Redpoint Ventures. Wochit is based in New York with offices in London and Tel Aviv. Find out more at http://www.wochit.com
About Mindshare
Mindshare is a global media agency network with billings in excess of US$31.4 billion (source: RECMA). The network consists of more than 7,000 employees, in 116 offices across 86 countries spread throughout North America, Latin America, Europe, Middle East, Africa and Asia Pacific. Each office is dedicated to forging competitive marketing advantage for businesses and their brands based on the values of speed, teamwork and provocation. Mindshare is part of GroupM, which oversees the media investment management sector for WPP, the world's leading communications services group. Visit us at http://www.mindshareworld.com and follow us on MindshareInTheLoop, Twitter @mindshare_NA and facebook.com/MindshareNA.
Wochit Contact:
Lindsay Rapoport
+1 (212) 699 6496
lindsay.rapoport(at)wochit(dot)com