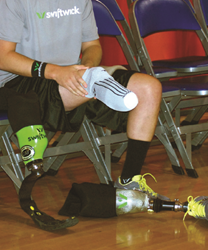 Brentwood, Tenn. (PRWEB) September 03, 2014
Swiftwick, a leading U.S. athletic performance and medical compression sock manufacturing company, is proud to unveil the expansion of their amputee VALOR® liner sock offering. Made in the USA, the VALOR® liner product will now feature a new technology that enables prosthetic and orthopedic professionals to dynamically fit a larger range of sizes for amputees. The company's first Above Knee (AK) product tackled a previously unaddressed segment of the market, while the new Below Knee (BK) liner sock expands the VALOR® offering to serve medium volume patients.
Swiftwick introduced its breakthrough VALOR® line with the BK product. The VALOR® innovation was immediately embraced by paralympic athletes in London where Swiftwick created an industry sensation by leveraging its proprietary moisture-wicking technology to address the sweat that forms underneath silicone prosthetic liners.
"Human skin is not created to be suffocated and surrounded by a prosthetic liner," said Mark A. Cleveland, Swiftwick co-founder and CEO. "Over time skin breaks down from pressure, torque and other complications that can lead to infection and injury. More than four years of development and effort went into solving these issues with the introduction of a breakthrough material, Flexival™, which we're especially proud to feature in the new VALOR® product."
Flexival™ is the world's first constant compression elastomer that, unlike conventional Spandex, is produced without the use of harsh chemicals that act as sensitizers which can cause skin irritations and allergic reactions. Flexival™, a USA-made and Swiftwick-commercialized material, is designed to simulate the mechanical and biomechanical functions of human skin. It has unique physical characteristics that create more breathable products and provide consistent, smooth compression to a wider range of residual limb volume using 50% thinner fiber.
"The VALOR® is one of the best functional inventions I have seen in my career," said Aaron Fitzsimmons, CP, OTR, co-founder of Amputee Associates and Amputee Blade Runners. "I recommend it to all of my patients."
Roughly 65,000 amputations occur every year in the United States, caused by various conditions including vascular disease, diabetes, peripheral arterial disease, trauma and cancer. The VALOR® liner sock helps amputees live normal, more active lives in greater comfort.
"The VALOR amputee socks are awesome," said Greta Neimanas, U.S. Paralympic Cycling Team athlete. "There is no sweat pooling in my liner anymore because it's all absorbed in the sock. This is a total game-changing product!"
Swiftwick is releasing its addition to the VALOR® liner sock offering at the American Orthopedic and Prosthetic Association annual conference in Las Vegas, September 4-6. National and international distribution partners, including Ortho Europe, Southern Prosthetic Supply (SPS), and Cascade Orthopedic Supply, have placed orders for the product, which will ship after the show. For more information about the Made-in-the-USA VALOR® line, visit http://www.swiftwick.com.
About Swiftwick
Founded in January 2008, Swiftwick is headquartered in Brentwood, Tenn. The company is a performance sock manufacturer that proudly employs an American workforce in high-quality textile manufacturing. Swiftwick is an innovator in designing and producing superior socks. The company has a culture focused on manufacturing through environmentally friendly means, social responsibility and leading customer service exemplified by their "Do What Moves You" motto.