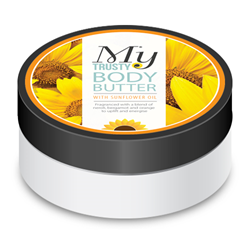 My Trusty skincare products are formulated for use on dry skin and can be used by all the family
Salisbury, Wiltshire (PRWEB UK) 5 September 2014
Following on the successful launch of My Trusty Little Sunflower Cream® in 2013, Salisbury NHS Foundation Trust recently developed and launched its new body butter. This is the second product in its expanding My Trusty® skincare range, formulated for dry skin.
My Trusty® is now delighted to announce that its body butter has been selected as a Pure Beauty Awards finalist in the best new body care category. The Pure Beauty Awards is now in its 12th year and recognises innovative beauty products launched within the previous twelve months.
My Trusty's skincare range was first launched in 2013 with My Trusty Little Sunflower Cream®. Containing 5% sunflower oil and rich in essential fatty acids, the sunflower cream was well received and featured on BBC TV's The One Show.
All profits from the sale of its skincare products are reinvested back into patient care.
'My Trusty® sunflower cream was originally developed by clinical scientists at Salisbury District Hospital to treat patients recovering from burns and plastic surgery,' explained a company spokesperson. 'Since its release we have been exploring the possibility of an expanding skincare range'.
Building on the success of the sunflower cream, My Trusty® body butter was released for sale in July of this year.
'We're delighted that our body butter has been selected as a finalist in the best new body care category by the Pure Beauty Awards. All of My Trusty® skincare products are formulated for use on dry skin and can be used by all the family including mums-to-be and babies over the age of 8 weeks' continued the spokesperson.
My Trusty® body butter contains 6.5% sunflower oil, together with a hydrating cream of shea and cocoa butter. This unique blend is especially formulated to melt at room temperature and rejuvenate and revive dry skin. It is also fragranced with neroli, bergamot and orange to uplift and energise.
The vision of Salisbury NHS Foundation Trust is to continue to build on the success of its skincare range, with the launch of a face and body oil also planned for release in October 2014.
Further information on My Trusty® is available from their dedicated My Trusty® website.
About My Trusty® Skincare
My Trusty® skincare is an innovative skincare range developed by Salisbury NHS Foundation Trust. My Trusty® skincare is free from colours, parabens and lanolin and not tested on animals.