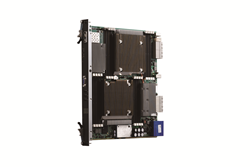 The Intel® Xeon® processor E5-2600 v3 family provides numerous features and performance enhancements to deliver compelling platforms for networking infrastructure
San Jose, CA (PRWEB) September 08, 2014
ADLINK Technology, a leading global provider of cloud-based services, intelligent gateways, and embedded building blocks for edge devices that enable the Internet of Things (IoT), today announced its newest AdvancedTCA® (ATCA) carrier-grade product, the aTCA-9710, which features the dual 12-core Intel® Xeon® processor E5-2600 v3 (formerly codenamed "Haswell-EP") paired with the Intel® Communications Chipset 8920 series (formerly codenamed "Grantley"). The aTCA-9710 offers 16 channels of DDR4-2133 VLP RDIMMS, enabling higher clock and data transfer rates than those seen in previous generation memory. The new ATCA processor blade delivers unparalleled performance while keeping a thermal envelope under 105W—a level lower than its predecessor—due to the adoption of Intel® Node Manager 3.0, a power management technology. With the many enhancements to this latest platform from Intel, the aTCA-9710 is suitable for carrier-grade server, data center, networking, and also DPI, SDN and NFV applications.
"The telecom market is facing the cruel reality that mobile traffic volume doubles every nine months, but ARPU grows much more slowly. Industrial trends require new network infrastructure to optimize mobile data and support growing high-bandwidth applications. This, in turn, requires a huge capital investment, which can affect revenues," said Yong Luo, head of ADLINK's Embedded Computing Product Segment. "The ADLINK aTCA-9710 targets the world's rapidly evolving LTE market, or 4G mobile communications market, and leverages every available new technology to maximize rack density and performance with optimal power usage, allowing telecom carriers to see a higher ROI, particularly from DPI, SDN and NFV applications that enhance networking performance without additional hardware expenditures."
"The Intel® Xeon® processor E5-2600 v3 family provides numerous features and performance enhancements to deliver compelling platforms for networking infrastructure," said Bill Rollender, Director of Marketing of Intel's Communications Infrastructure Division.
"The new processors deliver world class energy efficiency, enhanced security, and advanced monitoring and management capabilities that enable a higher level of automation and orchestration to support today's software-defined infrastructure (SDI) applications."
The aTCA-9710 gains additional performance from the ADLINK PacketManager, a software suite that includes support for the Intel® Data Plane Development Kit (DPDK), a set of libraries and drivers for improved packet processing on x86 platforms running Linux, as well as a management API for implementing network connections between server and client. With ADLINK PacketManager, the aTCA-9710 boasts a 12-times packet processing performance improvement over native Linux and 40Gbps L3F linear throughput using just 20% of CPU resources, making the product ideal for applications such as load balancing, flow classification, deep packet inspection, next generation firewall, traffic offloader, and network gateways.
The aTCA-9710 also comes with ADLINK's Embedded Power Management Agent (EPMA), a software solution to allow data center managers to confidently set upper limits on server power to maximize rack density without exceeding the rack power budget. With EPMA, users can easily monitor board-level power values and set policy triggers to limit consumption. For example, they can establish lower power consumption policies during peak hours when energy costs are higher, and suspend power consumption limits during off-peak hours. Or users can limit power consumption when inlet air temperatures reach a specific threshold. This flexible and intelligent power management will help to improve overall data center efficiency and optimize overall data center power usage.
For more information on the aTCA-9710 processor blade, please visit http://www.adlinktech.com.
About ADLINK
ADLINK Technology is enabling the Internet of Things (IoT) with innovative embedded computing solutions for edge devices, intelligent gateways and cloud services. ADLINK's products are application-ready for industrial automation, communications, medical, defense, transportation, and infotainment industries. Our product range includes motherboards, blades, chassis, modules, and systems based on industry standard form factors, as well as an extensive line of test & measurement products and smart touch computers, displays and handhelds that support the global transition to always connected systems. Many products are Extreme Rugged™, supporting extended temperature ranges, shock and vibration.
ADLINK is a Premier Member of the Intel® Internet of Things Solutions Alliance and is active in several standards organizations, including PCI Industrial Computer Manufacturers Group (PICMG), PXI Systems Alliance (PXISA), and Standardization Group for Embedded Technologies (SGeT).
ADLINK is a global company with headquarters in Taiwan and manufacturing in Taiwan and China; R&D and integration in Taiwan, China, the US, and Germany; and an extensive network of worldwide sales and support offices. ADLINK is ISO-9001, ISO-14001, ISO-13485 and TL9000 certified and is publicly traded on the TAIEX Taiwan Stock Exchange (stock code: 6166).
# # #
Intel and Xeon are registered trademarks of Intel Corporation in the United States and other countries.